Cornish Pirates 'down to the last man' through injuries says coach Alan Paver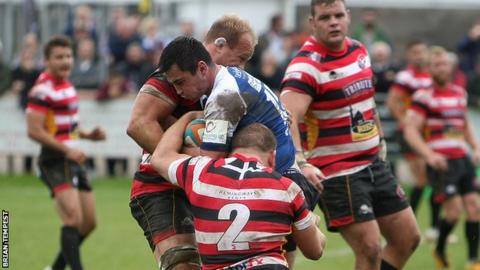 Injuries mean Cornish Pirates are down to the bare bones of their squad, according to coach Alan Paver.
The Pirates have lost five of their six Championship matches and are unable to refresh their side to face Hartpury in the British and Irish Cup.
Experienced players such as skipper Chris Morgan, Canadian internationals Matt Evans and Brett Beukeboom and Alex Cheesman have all been missing.
"We're down to the last man," Paver told BBC Radio Cornwall.
"The next man involved is me, so in terms off being able to freshen up and change the focus we've made some small changes, but we're looking pretty similar," added the 39-year-old player-coach, who has not pulled on a shirt as a prop forward since February.
The British and Irish Cup has been seen as a chance by some Championship clubs to give fringe players their chance to impress.
"We're treating it like a league game, we need to build momentum," Paver said.
"Yes, we know it's the cup and we like the cup, but I'll be honest, I would have liked for us to feel it's different, but we need to get things lifted off the ground so we're going out there to really go for it."
'Innovative' coaching
But Paver says that he and fellow coach Gavin Cattle have tried to use their injury problems to their advantage.
"From a coaching perspective and a learning perspective we have ramped everything up," he said.
"We have torn apart everything we do internally and looked at it with a magnifying glass, we're accelerating at a rate of knots.
"Going through this stressful situation has really made us innovate and really push forward, so in terms of that I think it's been fantastic."