Edinburgh: Cockerill urges 'good start' in Europe against London Irish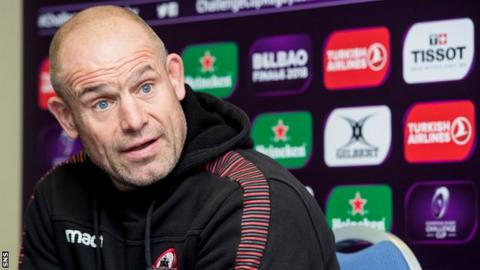 Richard Cockerill says beating London Irish can provide Edinburgh with the springboard for the rest of their European Challenge Cup campaign.
Cockerill's side begin the pool stages in Reading on Saturday.
Edinburgh, who reached the final of the competition in 2015, will also face French side Stade Francais and Russians Krasny Yar in Pool 4.
"I think it's important we get a good start to the competition," said the 46-year-old head coach.
"If we can get a positive result on Saturday then we go to Russia against Krasny where you would like to think we would win and we would be in a really strong position after two matches."
Cockerill expects the players to raise their game to a level that will make them competitive in Europe this season.
"I think they enjoy the difference in playing different teams. We obviously don't play the Premiership teams very often. So it's a good opportunity to test yourselves.
"As we know the English always rate themselves always. London Irish are sitting second bottom of the Premiership after a tough start to the season but they have played good teams as well. They have a very good squad and it will be a good opportunity to benchmark where we sit in and around that company."
Former Leicester Tigers boss Cockerill came to the Scottish capital in the summer and says the lack of players in Scotland makes it very difficult to be competitive against English opposition.
He insists, however, that elite level of coaching can help bridge the gap.
"There are only 100 professional players in Scotland where in England the competition for places and contracts is a little bit tougher," he added.
"Choice and getting the coaching bits right helps. You have got what you have got. We have to make sure we get the best out of that."