Barbarians women's team to play first match in November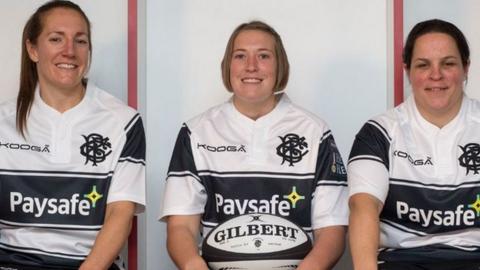 The Barbarians are to launch a women's side with the aim of taking women's rugby "to a different level".
The famous invitation club was founded in 1890 and has featured some of the greatest male players of all time.
The women's team's first fixture will be against Munster in November, before further matches against club, provincial and international sides.
"We're delighted to open a new chapter in the Barbarian FC's history," said Barbarians chairman John Spencer.
The Barbarians will field players from seven different nations against Munster at Thomond Park on 10 November.
Susie Brown (Scotland), Fiona Coghlan (Ireland), Claire Cripps and Megan Goddard (England), Elen Evans (Wales), Emma Jenson (New Zealand), Christelle Le Duff (France) and Kelly Russell (Canada), have all accepted invitations, with 440 international caps between them.
England World Cup winner Giselle Mather will coach the side, with Fiona Stockley the team manager.
"The Barbarians are one of the reasons I fell in love with rugby and to be coaching this side is a massive honour," said Mather, currently the Wasps director of rugby.
"The state of the women's game is phenomenal at the moment following events like the World Cup and the launch of the Premier 15s in England.
"With the Barbarians coming in on top of that it's taking the game to a different level."
The launch of the Barbarians women's team is supported by the Women's Sport Trust, who say it marks a significant development in women's sport.
"Women's rugby has made great strides in 2017 in terms of high-quality competition, investment and infrastructure," said Sport Trust Joint CEO Jo Bostock.
"It is a further indication of the progress of women's sport as a whole."
A full fixture schedule will be confirmed later this year.
Get all the latest rugby union news by adding notifications in the BBC Sport app.