Cornish Pirates coaches take responsibility for poor start to the season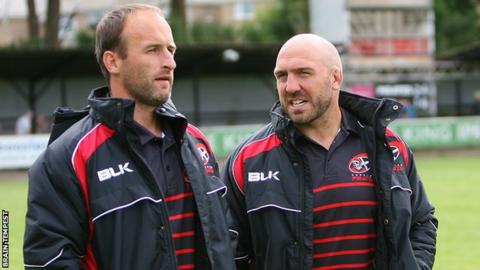 Alan Paver says he and joint head coach Gavin Cattle are responsible for the Cornish Pirates' poor start to the season in the Championship.
The Pirates were beaten 31-34 at home by Nottingham for their fifth loss in six games in 2017-18.
"We've got to improve and we've got to improve quickly and that's what me and Gav are here to do," said Paver.
"We've got to take responsibility for what goes out on that pitch and ultimately we've got to get better."
Despite only winning once, the Pirates are ninth in the 12-team second tier having got five bonus points from their six games - more than any other side in either the Championship or Premiership.
But despite saying how the club must improve their discipline before the game - having had four players sin-binned in five games - the Pirates' on-field problems got worse as they had two players yellow-carded.
"We had a pretty serous conversation this week around that, but it obviously didn't work as we doubled up," Paver told BBC Radio Cornwall.
"But it's something we've got to address seriously because we're conceding so may points in yellow card situations, even to the point where we're having to put in yellow card strategies across the board.
"You maybe see it once every three games, but we're seeing a yellow card every game at the moment and as coaches we've got to take responsibility.
"We've got a find a way to get this message across to the players."