Premiership and Championship to allow extra time for head injury assessment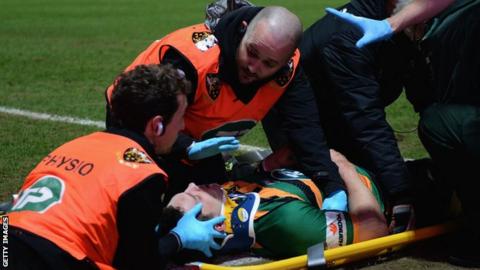 An extra three minutes will be added to the head injury assessment process in Premiership and Championship matches for the remainder of the season.
The optional time, approved by World Rugby, means the HIA can be as long as 13 minutes, but still no fewer than 10.
It will optimise the collection of in-game saliva samples, which studies have shown to provide a swift indication of a head injury.
The new guidelines come in to place from this weekend.
"Player recruitment for this study has been excellent and samples are steadily coming in from the first five rounds of matches," said Rugby Football Union head of medicine Dr Simon Kemp.
"However, we recognise this study is taking place in a live-match environment and that it can take some players longer to produce the saliva sample required.
"As a result we applied to World Rugby for an additional three minutes for the assessment, if required, to ensure sufficient time for samples to be collected."
Get all the latest rugby union news by adding notifications in the BBC Sport app.