Alan Paver: Cornish Pirates must improve discipline, says coach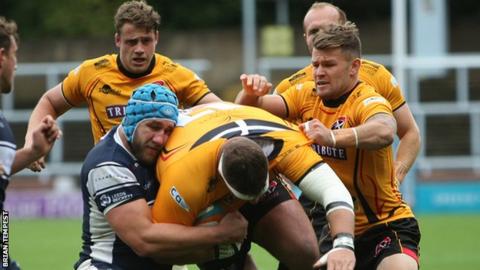 Cornish Pirates coach Alan Paver wants his side to improve their discipline.
The Pirates have had players sin-binned in four of their past five matches and have only won once so far this season in the Championship.
"If you take the average of 10 points every time you lose a yellow card, you can see why we want to drastically eradicate that out of our game," Paver told BBC Radio Cornwall.
"It's getting more difficult now with the way they approach a high tackle."
He continued: "Referees tend to be way more severe with that, so across the board we are seeing more yellow cards. We're not the only side dealing with it, but we definitely have put that on the list of things to reduce."
A contributory factor to the Pirates' poor start is that they have played three of the top four teams in this season's table.
"We are confident internally that things will improve and we will get on the other side of those scores," said Paver. "The guys are buoyant and we're determined.
"In my opinion this lull at the moment won't last and we'll be on our way, but that only comes from staying positive, staying proactive and moving forward."