Premiership Rugby: Impossible to draw conclusions from injury crisis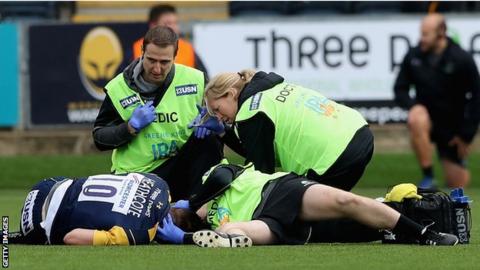 Premiership Rugby insists it is "impossible to draw conclusions" from the early-season injury crisis at certain top-flight clubs.
The likes of Harlequins, Bath, Wasps and Gloucester are all operating with severely depleted squads after five rounds of the domestic campaign.
But the league's governing body say it is too early to make any judgments.
"Player injuries are always a concern for our clubs," a Premiership Rugby spokesman told the BBC.
"But it is impossible to draw any conclusions around any change in injury risk from the injuries that have been sustained in the Premiership during the first five weeks of the 2017-18 season."
As well as the game becoming ever more physical, club directors of rugby feel the law variations, introduced this season, could be a contributing factor to the long injury lists.
Wasps director of rugby Dai Young, who has around a third of his squad unavailable, believes there are "at least" 50 more contacts in the game this season, with the law changes designed to encourage attacking play.
"It's hard to make judgments on just a month's research, but the game is going very much towards less kicking, keeping the ball for long periods, more contacts," Young said.
"It's very hard to protect the players."
Harlequins boss John Kingston says he has also seen an increase in the number of collisions per match.
The sport's global governing body, World Rugby, which introduced the law changes, stress the move was undertaken with player welfare at the front and centre of the process.
Premiership Rugby say an objective measure of injury risk will come through the annual Professional Rugby Injury Surveillance Project [PRISP], which is conducted each year in conjunction with the Rugby Football Union.
An optional period of up to three minutes is also being added to the Head Injury Assessment process in Premiership and Championship matches until the end of the season to allow more time to collect in-game saliva samples from players.
"PRISP is the most comprehensive and longest-running injury surveillance study in professional rugby," added the spokesman.
"Over the last 13 seasons it has monitored the injury risk of Premiership Rugby players in Premiership Rugby, European and national competition as well as training.
"Since this project began in 2002, it has shown that the overall injury rate has remained relatively stable in the professional game in England.
"The PRISP steering group is currently reviewing the 2016-17 season data analysis prior to publication in the new year."