Phil Dollman: Exeter full-back still harbours Wales international ambitions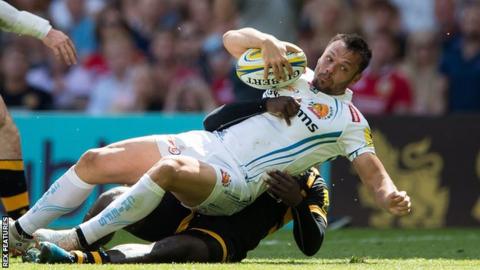 Exeter full-back Phil Dollman says he has not given up hope of winning his first Wales cap.
The 32-year-old got his first international call-up in May.
But he missed the summer tour games against Samoa and Tonga after inuring his knee in Exeter's Premiership final win over Wasps.
"Hopefully I can perform and contribute for Exeter in a good way which shows me in a good light and you never know I may get a call up again," he said.
The former Dragons back has been at Exeter since 2009 and is one of a handful of players who won the 2010 Championship and the 2017 Premiership titles with the Devon club.
"That feeling's never gone away that I'd like to play for my country," he told BBC Sport.
"But it's one of those old adages that you've got to carry on with the day job and look after those bits first."
He added: "I was gutted to pick up the injury in the first place and come off the pitch, but then that realisation that the summer tour was going to be missed was pretty savage.
"It was a real rollercoaster ride of the day actually, but I'd do it all again
"That feeling at the end of the Premiership final was brilliant so I wouldn't be afraid of doing it all again.
"It's everyone's dream, especially growing up in Wales, it's a big thing and a big driving force, it's why I played rugby really to play for my country."