Jake Woolmore: Jersey Reds getting over 'teething problems'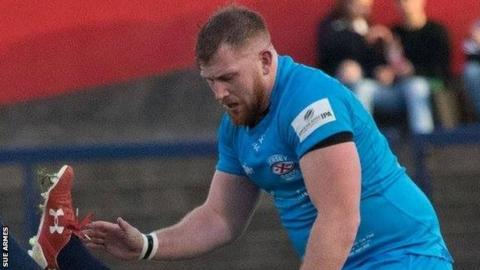 Jersey Reds acting captain Jake Woolmore says the club's new-look squad is still learning to gel together.
Saturday's 15-13 defeat at home by Bedford was their second successive loss and third defeat in five matches.
Jersey brought in 20 new players in the summer after finishing a club-high fifth in the Championship, only missing the play-offs on points difference.
"When you chuck the amount of new players in together there's going to be teething problems," Woolmore said.
"There are people are from different backgrounds and different countries and we've all played slightly differently."
And the former Exeter Chiefs prop - who joined Jersey permanently in the summer after a loan spell - says their close wins last month over Hartpury and Cornish Pirates made the players focus on their game:
"We got a couple of results through not performing very well, but I think that's made us look at a few things differently," he told BBC Radio Jersey.
"Say we keep winning but not performing very well, when you come up against your Ealings and your Bristols you'll get stuffed.
"But now we know what we need to work on, we've highlighted areas and we are moving in the right direction to step up again."