Exeter Chiefs: Premiership champions' depth means players 'drive each other on'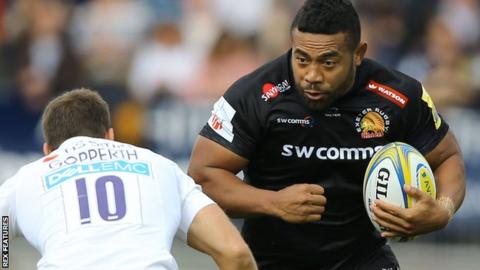 Exeter Chiefs head coach Ali Hepher believes their strength in depth will stand them in good stead as they try to retain their Premiership title.
The Chiefs head the table with three wins out of four so far, including a 31-17 victory over Wasps last weekend.
"We want a competitive squad so each and every one of them drives each other on," Hepher told BBC Radio Devon.
"It means you haven't got people resting in the first team knowing they're going to get picked next week."
Despite their success last season and good start to the current campaign, only three Exeter players were part of the England training camp last weekend.
But their absence, plus a number of injuries, meant Elvis Taione and Sam Skinner made their first Premiership starts, while Toby Salmon and Tom Hendrickson were involved from the bench.
"Ultimately, it's the choice of the England selectors. All we can do is provide the lads with a platform to express themselves," said Hepher.
"Hopefully we'll get a few more pushing through, and on the fringes. It's up to the guys, they've got to do it week in and week out.
"But if they're in a winning side, there's more chance that more and more of them are going to get into that England squad."
Flanker Julian Salvi, who is set to face former club Leicester Tigers on Saturday, said results show the club's recruitment and development are working well, with no-one certain of their place.
"We pride ourselves on having depth in the squad - when you lose a couple of guys, you put some of the others in and you're still getting the same effect, you're still winning games, and you're still playing well, it bodes well for the team," the 31-year-old said.
"We're giving guys not only development time but an opportunity to showcase what they can do - and they're doing it.
"You keep your fingers crossed. Sometimes you're in, sometimes you're not, but that comes with professional rugby.
"Because we've got that depth, guys are snapping at your heels and you've got to be on song each week."