Martyn Williams worries about Cardiff Blues stability with Danny Wilson exit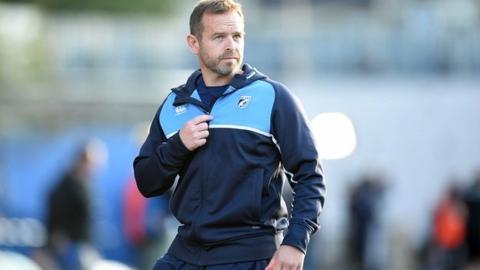 Former Wales captain Martyn Williams believes Cardiff Blues suffer from a lack of stability and vision after it was announced head coach Danny Wilson will leave at the end of the season.
The Blues announced Wilson will depart after his third campaign in charge, having taking over in 2015.
His exit will follow unsuccessful stints for Phil Davies and Mark Hammett.
"That's three coaches in six years, so there is no stability," said Williams.
"It's tough on a player when you are getting different methods and coaching styles.
"Just as you are getting used to one and feel you are building on something, it gets pulled from underneath you.
"There is no continuity there and the results show that.
"It's no coincidence, without a coach and some sort of vision which seems to be lacking there, the results have been so hit and miss on the field."
Former Blues flanker Williams believes the team have not recovered since losing Dai Young in 2011 to Wasps.
Since then Davies, Hammett, Wilson, Gareth Baber, Justin Burnell, Paul John and Dale McIntosh have all had spells in charge.
"You look at the stability when Dai was there," said Williams.
"He had a real tough start and got criticised from pillar to post.
"But if ever there was something to show if you give somebody time they will get some rewards with it, that is it."
Not a shock
Williams was not shocked by news of Wilson's departure after the head coach rejected the offer of a new contract.
"It didn't come as much of a surprise and the rumours have been floating about for a while that is all not well at the Blues," Williams told the BBC Radio Wales Scrum V podcast.
"I am not quite sure why it had to be done this early. It is far from ideal this early in the season.
"It is a sad day because I have a huge amount of respect for Danny. In a tough time he has done a fantastic job.
"He has wanted more money and investment in the squad and that's not available, apparently.
"Danny has to look after himself for his own reputation and he doesn't see his future there, which is a real shame for the Blues."
Time for experience
Williams believes the Blues must now employ an experienced coach.
"If I was in charge there I would get a Dave Rennie or Joe Schmidt type figure in," said Williams.
"Get someone who is high calibre who has a lot of experience and proven track record.
"Danny was a young coach and first job as a number one learning on the hoof.
"It's time to get a real figurehead to send a message out they are not shutting up shop and doing everything on a budget and they want to be successful.
"They have to ask themselves do they want to be a successful rugby side again or trying to save as many pounds as they can on the business?
"Ultimately it's a rugby team they are running and it deserves more because the potential is huge.
"They have a bit of time, but if they want someone of real quality, it's going to cost them."