Study calling for tackling ban in school rugby is 'extreme and alarmist' says World Rugby
Last updated on .From the section Rugby Union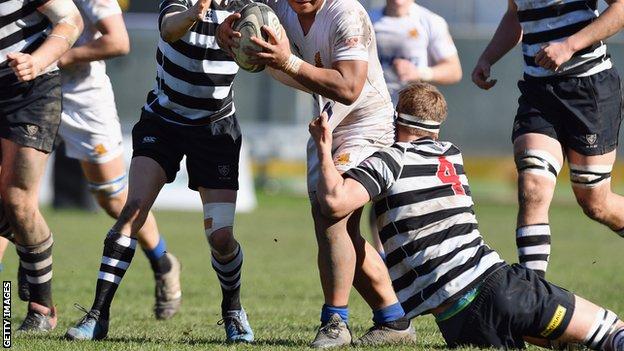 A study calling for a ban on tackling in school rugby is "extreme and alarmist" says World Rugby.
She is presenting new evidence that banning tackling would reduce head and neck injuries and concussion.
But the sport's governing body say her conclusions are "simply not supported by the data".
A statement read: "World Rugby and its member unions take player safety and welfare very seriously and proactively pursue an evidence-based approach to reduce the risk of injury at all levels.
"Contrary to Pollock's opinion, the systematic published studies where injury has been properly defined and monitored, suggest the risk for pre-teens is not unacceptably high compared to other popular sports.
"It is well documented that, for most sports injury rates increase with age and yet the research quoted mixes 9-12 with 18-20 age groups."
Focus on 'coaching and awareness'
Headway, the UK's leading brain injury charity, has also stopped short of backing calls for a complete ban on contact rugby in schools.
They believe the focus should instead remain on better coaching and greater awareness of concussion.
"We have to be careful to not discourage people from participating in responsible contact sports that have rules in place to prevent or reduce the risk of head injuries," said chief executive Peter McCabe.
"We know that the tackle is a key danger area when it comes to concussion in rugby. The focus must be on ensuring all children are taught how to tackle properly.
"Collisions will always occur when children are playing. It is vital, therefore, that all teachers are aware of the signs of concussion."
Last year, the CMOs rejected a call for a ban on tackling in youth rugby.
But writing in an opinion piece for the British Medical Journal, Pollock and Graham Kirkwood, also from Newcastle University, said that government had "a duty to protect children from risks of injury and to ensure safety of children" under a United Nations Convention on the Rights of the Child.
Pollock's recommendations 'more dangerous'
The Rugby Football Union, the governing body for the sport in England, say the report is "nothing new".
RFU chairman Andy Cosslett told BBC Sport he believes Pollock's recommendations are actually more dangerous than starting to tackle at an early age.
"This doesn't bring us any new information we haven't heard before. Safety is something we spend a huge amount of time on," he said.
"Learning to tackle early is all about technique, and the stats are very clear. If you learn to tackle as a real youngster, the chances are you will get less injuries going forward.
"In terms of grouping children by weight or age, there is an argument either way. Some of the early New Zealand evidence was very positive, latterly slightly less positive. We are going to do some tests ourselves."