Deon Davids: Southern Kings coach faces major rebuild ahead of Pro14 launch
By Jamie Lyall
BBC Scotland
Last updated on .From the section Scottish Rugby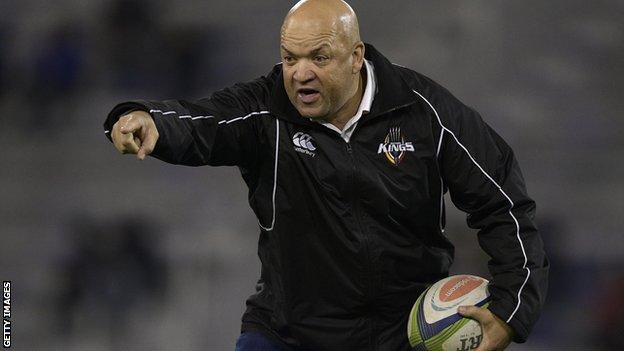 Deon Davids admits he faces a "huge challenge" to rebuild his Southern Kings squad for the expanded Pro14.
The Kings, one of two South African entrants for the coming season, are due to begin training on Monday, only 18 days before their league opener.
Uncertainty over the franchise's future meant a host of regular starters moved on at the end of Super Rugby in July.
"I've lost a couple of key players to other unions because pro-rugby wasn't confirmed," head coach Davids said.
"The uncertainty was the only reason most of the players left. Obviously, for me now, the challenge is to put forward a competitive squad.
"We have been busy for a couple of weeks with that and got some support from surrounding franchises and unions."
The Kings, who play in Port Elizabeth, enter the Pro14 next month with the Bloemfontein-based Cheetahs after both were axed from Super Rugby, which is downsizing from 18 to 15 teams for the 2018 season.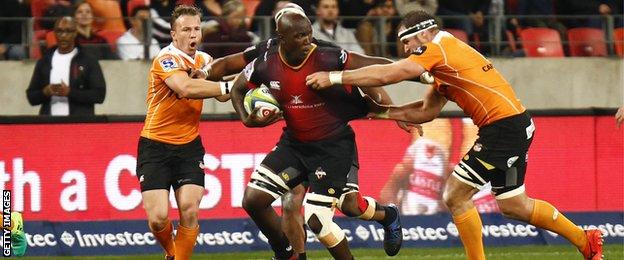 The two franchises played their final Super Rugby fixture on 14 July and are due to start their maiden northern hemisphere campaigns just seven weeks later on 1 September. The Kings begin against defending champions Scarlets in Llanelli.
In the interim period, Davids has been shorn of captain Lionel Cronje, who has moved to Japan, while several other first-team players have joined rival South African teams, or clubs in Europe.
"We developed a strong core group, a very strong brotherhood and a great culture in Super Rugby and you could see it in the brand of rugby we played and the way the guys fought for each other right until the end," the 49-year-old added.
Former Kings director of rugby and head coach Alan Solomons
"We started the Kings academy in 2010 with nothing and, by 2013, five of those kids played Super Rugby. Now we're talking four years on, they are producing some really good young players.
"They've reached the stage where the boys have started to come through nicely and want to stay in the Eastern Cape because they're comfortable there.
"I think they're capable of being competitive and they've shown that by what they've achieved in Super Rugby."
"Rugby's about continuity, building combinations and having a strong culture. To lose all of that suddenly and start to rebuild is obviously a huge challenge.
"The players that will play in this competition will be well-conditioned, they'll have played a lot of rugby and will be used to playing for 80 minutes.
"But, for such a long competition period, you want to start with a proper base and proper preparation, playing good friendlies and building it up so you can peak at the right time. Unfortunately, we are not there yet for this year."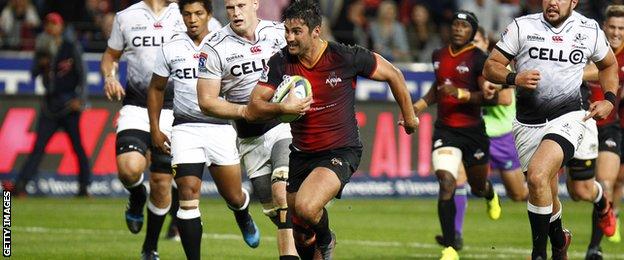 Reports in the South African media have linked Davids with a move away from the franchise, but while he says he did consider options elsewhere, the coach insists he is now contracted and committed to leading the team into its new European venture.
The Kings are to assemble for training this week, with "30-32 players" forming the basis of what Davids hopes will become a squad of around 45.
"It's very tough, there's a lot of work to be done," he said. "It's going to be absolutely important that we keep things very simple, we ensure that we look to recruit the right type of player with the right experience that can downsize a bit of your coaching time.
Kings scrum-half Rudi van Rooyen
"We've shown this year we're a great running side - I think we can bring something new to the Pro14, more running than kicking and I think that will be good for the Pro14. We've really stepped up and I think we can be a threat.
"I don't see why we'd have to stand back for big teams like Munster. I really think we can make our stamp in the first year and build on that.
"I think if you just get through the first year and how things work and how things are you can build on that. I think we can really be contenders growing into the Pro14."
"Like any other rugby coach at the end of a competition, when your contract comes to an end, you consider what is available in the market and how you can expand and grow and maybe work in different environments.
"That's just a natural thing, but I was committed to the Kings for Super Rugby and now knowing this competition is a reality I'm still busy working here."