Leigh Halfpenny: Scarlets want to help new signing sharpen his attack
By Gareth Griffiths
BBC Wales Sport
Last updated on .From the section Rugby Union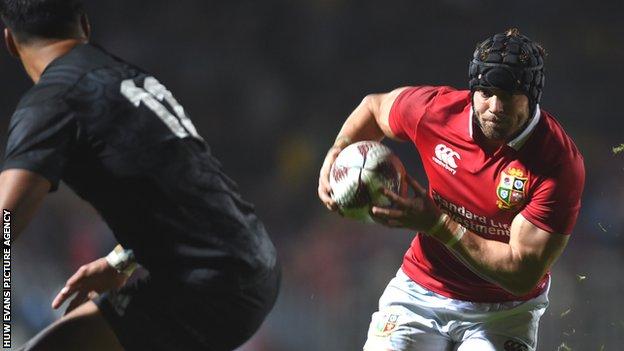 Scarlets coach Wayne Pivac says he wants to help Leigh Halfpenny rediscover his attacking qualities.
Pivac hinted Halfpenny, returning to Wales after three years with Toulon in France, could play on the opening weekend of the season.
"He wants to improve his attacking game and get that back where it has been in the past," said Pivac.
"We are looking forward to that."
The Scarlets coach is happy to have secured the services of Halfpenny after fellow Wales and British and Irish Lions full-back Liam Williams joined Saracens.
"To get Leigh back sort of cancels out part of Liam's experience we lose," said Pivac.
"Leigh is renowned for his defence, kicking game and goal kicking.
"His general understanding of the game is fantastic and we are hopefully going to add to his game and he is hopefully going to add something to us."
Early debut?
Halfpenny asked to come in and meet the Scarlets a week early ahead of his intended arrival on 21 August, and Pivac hinted he could feature on the opening weekend of the Pro14 season.
Asked directly about Halfpenny appearing in the opening game, Pivac responded: "Leigh has actually asked to come in early, so he could well do.
"He doesn't want to come in on day one, start working with everybody and do the handshakes in the first training session.
"He wants to do it right and he has a very professional approach.
"It would be a bit of a fairytale [if he played in the opening game], but we have to put the player's best interests at heart and we'll always put the team first."
The Scarlets' other two 2017 Lions, centre Jonathan Davies and hooker Ken Owens, who Pivac confirmed will skipper the region again for the coming season, will return on 21 August.
Davies returned from France in the summer of 2016 and Pivac says the lessons learned then could affect when Halfpenny makes his debut.
"We probably put Jon out too soon because he's a marquee player," admitted Pivac.
"We'll put Leigh out at the appropriate time and make sure we don't make similar mistakes."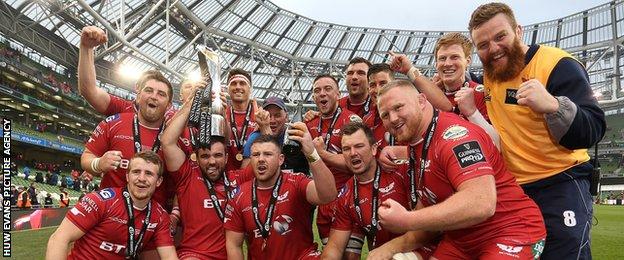 Full-back not wing
Williams played the latter part of last season on the wing for Scarlets, but Pivac insists Halfpenny has been signed as a full-back.
"Leigh is a full-back, he wants to play full-back and I don't see any issues in our group," said Pivac.
"Johnny McNicholl played full-back and wing last season. I would imagine Leigh will only be here for half a season as a nationally dual-contracted player.
"That leaves plenty of football for both of them to play full-back. Johnny will be pushing in both positions every week; he is that sort of player."
Scarlets not Blues
Halfpenny chose to join the Scarlets rather than return to Cardiff Blues, the region he left to join Toulon - a decision for which Pivac is grateful.
"I'm just here doing the best I can for the Scarlets and feelings don't come into it," he said.
"It is not about hard feeling, it's just a business and that's how we drive things.
"Leigh is living locally, the style of play has attracted him, I think, and also there are a lot of internationals here in our back line and a lot of players he knows well.
"It is a decision that has been made and we are happy he has decided to come to the Scarlets."