Rugby World Cup 2019: Draw for tournament to take place in Japan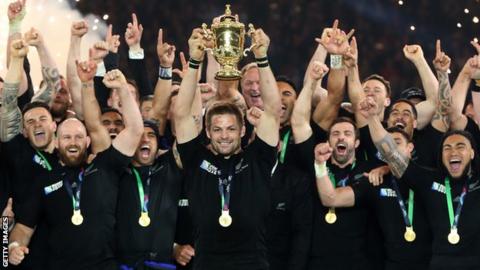 The draw for the 2019 Rugby World Cup will be made on Wednesday at 09:00 BST in host country Japan.
Twenty nations will take part in the tournament and will be drawn into four groups of five.
The 12 teams, including holders New Zealand, who finished in the top three of their groups at the last World Cup automatically qualified for the event.
They have been split into three bands based on their ranking, with eight more teams yet to be decided.
The All Blacks, England, Australia and Ireland are in band one, France, Scotland, South Africa and Wales make up band two and Argentina, Georgia, Italy and Japan are in band three.
The teams yet to qualify are in the two remaining pots.
One team from each band will be drawn into each World Cup group and England will be hoping to avoid a repeat of the their "group of hell" from the 2015 tournament when they were drawn with Australia and Wales, as well as Fiji and Uruguay.
England failed to progress beyond the group stages in what was the first time the hosts have exited the World Cup before the knockout phase.
The World Cup in Japan runs from 20 September to 2 November 2019.
The pots
Band One: New Zealand, England, Australia, Ireland
Band Two: Scotland, Wales, South Africa, France
Band Three: Argentina, Japan, Georgia, Italy
Band Four: Oceania 1, Americas 1, Europe 1, Africa 1
Band Five: Oceania 2, Americas 2, play-off winner (between Europe 2 and Oceania 3), repechage winner
Get all the latest rugby union news by adding alerts in the BBC Sport app.