BBC Sport - Departing Pienaar surprised by Muller's return visit to Ulster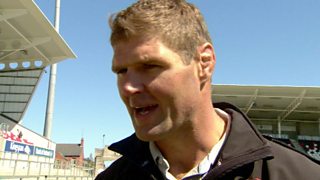 Departing Pienaar gets surprise Muller visit
Former Ulster captain and World Cup winner Johann Muller surprises fellow South African Ruan Pienaar on the eve of the scrum-half's last match for the Belfast club.
In 2014 forward Muller played his last match for Ulster after a four-year spell and travelled with Pienaar to the ground.
"We shed a tear on that occasion, and I told Ruan I would be back when he played his last match. I don't think he believed me," said Muller.
Get Inspired Activity Finder
Run by the BBC and partners
Find ways to get active near you: