BBC Sport - School Report: How women's rugby is proving a big hit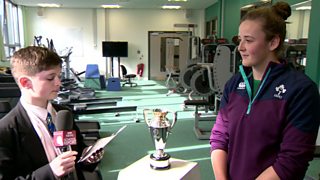 How women's rugby is proving a big hit
School Reporters from Grosvenor took the opportunity to interview Ulster and Ireland player Nikki Caughey and Ulster Rugby representative Joy Sparkes about the increased interest and participation in women's rugby over recent years.
Nikki Caughey, who is a former pupil at Grosvenor, spoke of her excitement at the prospect of playing in a World Cup in front of a home crowd.
This report was produced as part of BBC News School Report.
You can find more School Report stories produced by young people in Northern Ireland here.
Get Inspired Activity Finder
Run by the BBC and partners
Find ways to get active near you: