Peter Jackson's Six Nations stories: Welsh half-backs' revenge
By Peter Jackson
Freelance journalist and broadcaster
Last updated on .From the section Welsh Rugby
It takes some doing to win a two-horse race by the length of the Champs-Élysées but France managed it against Wales at Wembley, on a blazing Sunday in April almost 20 years ago.
The French scorched home by the small matter of 51-0, enough to cost Kevin Bowring his job as Wales coach. On the field nobody felt the heat more than the Welsh half backs Rob Howley and Neil Jenkins.
What they did about it on their two subsequent visits to Paris will reinforce hopes that Wales may yet finish the Six Nations with a real flourish.
As a way of evening up the score with France, there had never been anything to compare with it before, or since.
In less than twelve months, Wales turned the mother and father of all hidings at Wembley into a simply sensational victory on their debut at the state-of-the-art stadium which looked a bit like a flying saucer - the Stade de France.
That they did it in Paris of all places, where they'd lost eleven in a row over the previous 24 years, made it all the more surprising.
Wales won 34-33 - a staggering 52-point swing from the previous season. How fitting that Howley and Jenkins should appear in the starring roles.
It was, by even the most demanding criteria, a wonderful game of rugby with Wales off to the kind of start usually confined to fantasy island.
France replied with four of their own - Émile Ntamack conjuring up a hat-trick before the peroxide blond bombshell, Thomas Castaignède, popped up with the fourth.
That seemed to be that until the Scottish referee, Jim Fleming, penalised Castaignède for a late tackle, a dubious decision at best.
Jenkins kicked the goal, as he always did, to put Wales back in front and that proved just enough thanks to Castaignède's penalty miss with the last kick of the match.
It has to be said that they did it with the connivance of two New Zealanders - Shane Howarth and Brett Sinkinson neither of whom had any right to be in the team despite claims of Welsh ancestry.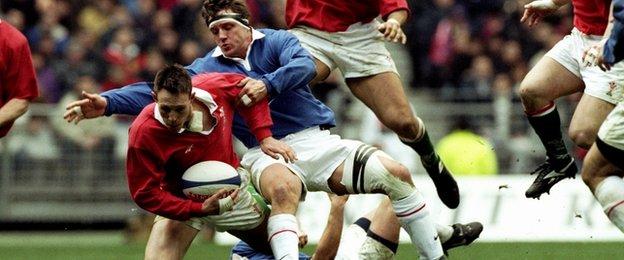 They got away with it because nobody was any the wiser. The 'Grannygate' scandal, exposing the ancestral links as bogus, didn't break until much later.
The last France-Wales match of the twentieth century produced seven tries, sixty-seven points and Wales won by the narrowest possible margin.
If that was special then what the Welsh did by way of an encore on their next trip to Paris seemed almost too good to be true.
Howley and Jenkins were still there, reinforced by another member of the current coaching team, hooker Robin McBryde. France were so cock-sure of themselves that their new coach, Bernard Laporte, gave them carte blanche to attack from anywhere and everywhere.
It worked like a treat until Howley turned the match with a simply stupendous try from the Welsh 22. And it only needed one pass from start to finish.
France came back, got their noses in front at 35-33 and kept them there until the 78th minute when Jenkins dropped a long-range goal.
Wales were still in some danger until Philippe Bernat-Salles on the French wing made a real hash of trying to chip Gareth Thomas and Jenkins seized the gift.
A try at the end of surely his greatest game for Wales meant he had gone through the card - one try, two drop goals, three conversions, three penalties, adding up to a record 28 points.
It's hard to imagine anyone getting remotely close to that this time around but the fact of the matter is that Wales are in the midst of their longest winning run against France for some 60 years - five in a row.
After the gloriously unexpected win over Ireland, a sixth is the very least the fans deserve for keeping the faith.