Six Nations 2017: The six key questions Eddie Jones is facing

By Tom Fordyce
Chief sports writer
Last updated on .From the section Rugby Union139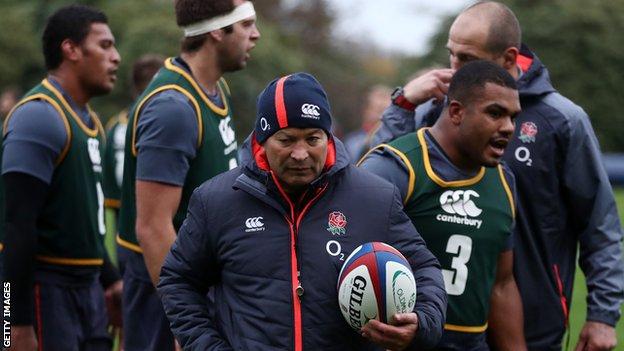 Six Nations: England v France
Venue:
Twickenham
Date:
Saturday, 4 February
Kick-off:
16:50 GMT
Coverage:
Live on BBC Radio 5 live, text commentary and post-game video highlights online
Eddie Jones' England appear to have minimal problems: reigning Six Nations champions, 14 wins on the spin, a summer spent whitewashing Wallabies, an autumn of being tested and pulling through every time.
And yet. As they prepare to get their title defence under way against France this Saturday, Jones has been in typically restless mood - decrying his players' global standing, downplaying the team's decorated past year, and being as likely to appear satisfied as he is to tarmac Twickenham.
These are the six key questions the old schemer knows he has to answer:
1. How does he combat complacency?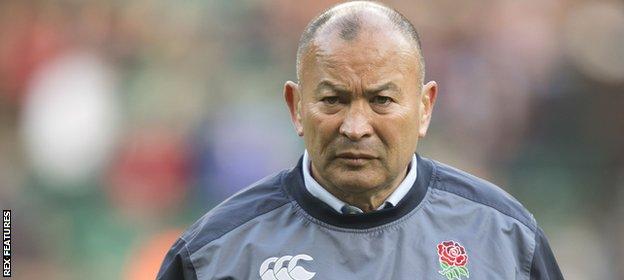 England haven't lost at home to France in the Six Nations for 12 years. They have won four of their past five meetings with Wales. Scotland last won at Twickenham when Margaret Thatcher was in her first term as prime minister; Italy, even buoyed by the charisma and drive of Conor O'Shea, have a record against the men in white of played 22, lost 22.
All of which might lead England supporters to think this championship will all come down to the final match in Dublin, and all of which means Jones - 13 matches in charge, 13 wins - is making sure his players do not fall into the same trap.
"Nothing in our team is permanent," he has said of his 100% men.
"No-one owns the jersey; no-one owns their position in the team. It's something you borrow, and something you've got to cherish."
It is why he has claimed that his squad doesn't yet contain a single player good enough to make a world XV, no matter how many caps, Premiership trophies, European Cups or French scalps there might be among the 34 names. It is why he has quoted Sir Alex Ferguson, who said that he only managed two world-class players in his 27 years at Manchester United.
No matter that Ferguson actually said there were four (Eric Cantona, Paul Scholes, Ryan Giggs and Cristiano Ronaldo). It is the headline rather than the small print that matters in Jones' message. No-one is safe. Everyone can do better.
2: How does he improve leadership in the team?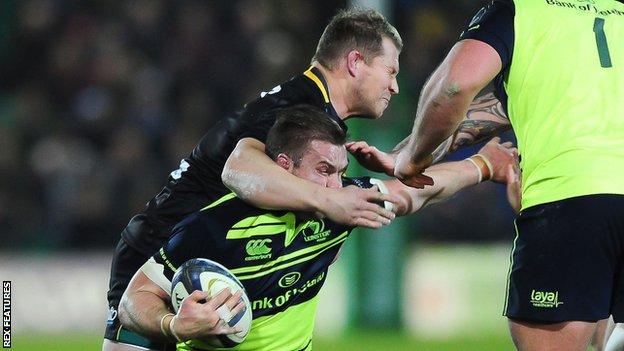 Everyone can do better, including a captain who, less than a year ago, became only the second man in 19 years to lead England to a Grand Slam.
Dylan Hartley's successes in the role have bought him only the slightest insurance. With his six-week ban for an illegal tackle on Leinster's Sean O'Brien having only expired last week, he is seriously short of match time but has retained the armband for the Six Nations.
Beyond the championship, there are no guarantees. There is the pressure at hooker from the consistently excellent Jamie George, Tommy Taylor and Luke Cowan-Dickie, and there are Jones' repeated hints that his captain for the games leading up to the next World Cup may not be a 33-year-old.
Jones has talked of "leadership density" - of having eight or nine generals throughout the ranks, as the World Cup-winning side of 2003 could boast, and he may already have earmarked the man most likely to lead them all, Owen Farrell.
One of Jones' first acts as head coach was to promote Farrell from the ranks to vice-captain, a move in keeping with his decision, when in charge at Saracens, to give him a debut against Llanelli just 11 days after his 17th birthday. A greater promotion yet may come early again.
3. Stability or flux?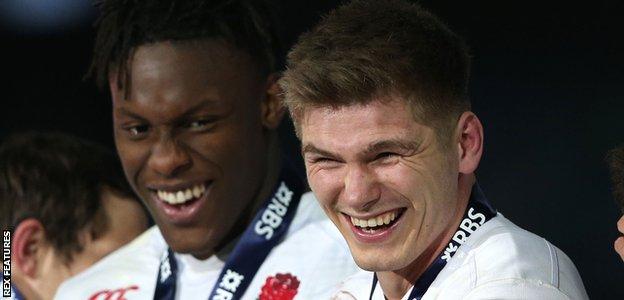 In other words: stick or twist? You might think only the bravest or most cocksure of coaches would change a winning team. The Six Nations does not tend to reward the experimental or the untested.
But what if those wins were not enough? What if the stated long-term aim of winning the World Cup in Japan in 2019 outranks this oldest of tournaments?
And so suddenly there are dilemmas everywhere. Does Jones move Farrell inside to 10, breaking up his partnership with George Ford to create fresh options at centre, or does he look at the continued injury problems of Manu Tuilagi and the international inexperience of Ben Teo'o and keep old friends together?
Mike Brown will be 34 by the time of that World Cup. Isn't Anthony Watson his natural successor at full-back, particularly bearing in mind the surfeit of options on the wing? Yet Brown is rock-solid under the high ball, beats a man every time he attacks with ball in hand and brings the grunt and aggression that Jones so appreciates in his charges.
Is this the time to let the outstanding Maro Itoje run free in the back row, leaving the second row in the combative and athletic hands of Courtney Lawes, George Kruis and Joe Launchbury? Or does the sensible coach let his superman fly where he has excelled so far in his brief international career?
James Haskell, like Brown, will be 34 by 2019 - so there is the question as to should he return to the flanks whenever fit. Jones must also consider if it realistic to expect another 30-something, Chris Robshaw, to remain a first choice when his spell out with a shoulder problem ends this spring.
England's head coach knows that to win the World Cup, he needs more than one world-class side. He may need more than two; unless injury rates dramatically and unexpectedly drop, he requires both cover and a fitting replacement for that cover, as his current problems at loosehead prop illustrate.
4. How does he manage expectation?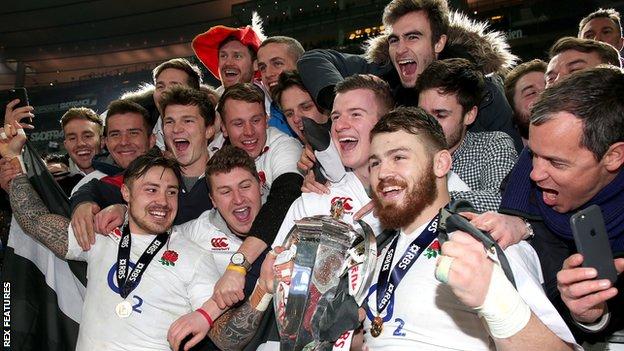 England expects, as another successful captain of the ship once remarked. Jones' team have set high standards over the past 12 months, beating every major rugby nation bar the one they did not meet, New Zealand.
So will supporters giddy on that long unbeaten stretch feel disappointed if England fail to win a second successive Grand Slam? If they lose to Ireland yet win the Six Nations title, is that no longer enough, despite the fact it would have been very welcome during the run of four successive second-place finishes for which they had to settle from 2012 to 2015?
And what if that remarkable run goes on? If England win every one of their matches in this Six Nations, they will break New Zealand's all-time record for most consecutive Test victories. English teams and those who cheer them have not generally reacted well to sustained success; England's cricket team won only one of their next four Test series having attained the world number one ranking in 2011, while the rugby team's World Cup and Grand Slam triumph of 2003 was followed by a third place in the 2004 Six Nations, a fourth in 2005 and another fourth in 2006.
It may be a happy problem for Jones to have, when so little was expected for so long, when the past two World Cups have seen the team fall apart and the head coach sacked. But a problem it may be, now the bar has been raised.
5. How does he improve England's attacking game?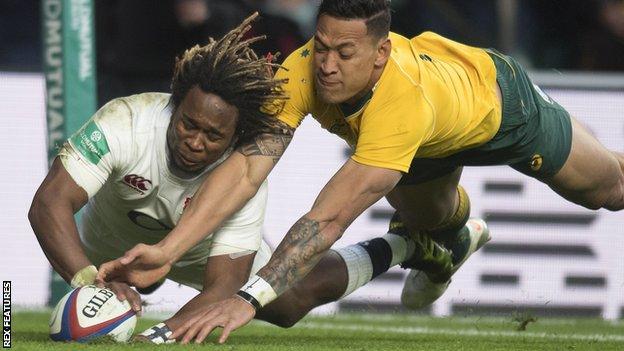 Jones made no secret his first Six Nations campaign was about tightening the defence. England had, after all, shipped 33 points in Australia's last match at Twickenham, 28 in their last home game against Wales, and 35 on France's previous Six Nations visit. Jones also wanted to buttress a set-piece that had gone from traditional strength to Achilles heel during that World Cup disaster of 2015.
That England scored five fewer tries in the tournament last year than they had in coming second in 2015 mattered less than the bigger Slam scenario. Now, in his second, Jones wants to revitalise the offensive element of his team's make-up in the same way.
There has been the appointment of Rory Teague as full-time skills coach, but Jones understands that more developments must follow - perhaps a different balance of personnel in the backs, maybe a more expansive gameplan, almost certainly a ruthlessness when chances do appear.
The theory is unarguable. The reality - in what are likely to be cold, wet conditions, in the most ferociously competitive tournament in world rugby, when every other nation and all their support are looking forward to knocking England off their throne - may be several degrees harder.
6. How does he deal with defeat?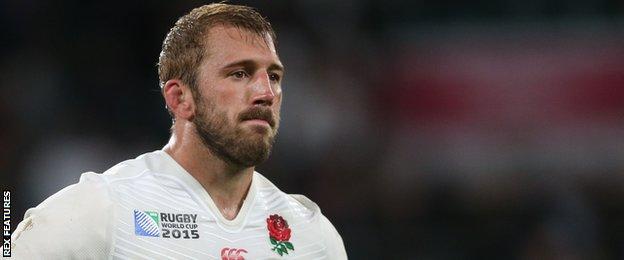 It will come at some stage, perhaps in Cardiff, where England have won only twice in the Six Nations in a decade, or Dublin, where they have been victorious in the tournament just once in 14 years. It may come on tour in Argentina, while Jones' best players will be absent as they join up with the British and Irish Lions in New Zealand. It may happen beyond that still, should the Jones magic continue to cast its spell.
When it does, how will his side react? Will it feel worse to players and supporters because of the long unbeaten run that preceded it, and will its manner deflate some of the good feeling which Jones has created since his appointment?
Because the end is not the end. Maybe a truly world-class team never countenances defeat, but a truly world-class team also develops from one - from the lessons that reverse has taught, from the weaknesses it exposes, from the players who fall short.
As Jones said last month: "If we lose a few battles on the way, it will help us win the war."
Jones and England have been like a married couple who have enjoyed the most extraordinary start to their relationship. When the first fight happens, when the first door slams, will it strengthen the bond between them, or will they forever be looking back to when it all seemed so special, so untarnished?