Pale Nonu: Redruth centre has 'no arguments' over red card at Redingensians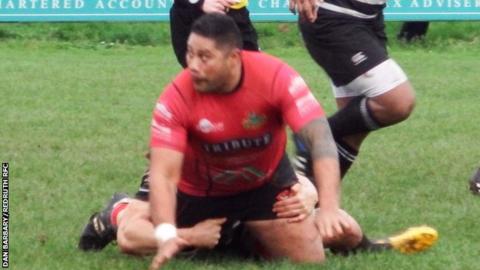 Redruth forwards coach Adrian Rutter says veteran centre Pale Nonu can have no complaints after he was sent off in their 28-14 win at Redingensians.
The veteran centre was red-carded for a high tackle early in the second half as the Reds got their third win in a row.
"It was probably a little bit high so Pale took his medicine, no arguments," Rutter told BBC Radio Cornwall.
"It did make it a bit more challenging in the second half playing 14 against 15 in the second half is never easy."
But Rutter added: "Credit to the boys, they dug in deep and pulled a result out."
Nonu was sent off as World Rugby's new interpretation of the laws on high tackles continue to feed through into the game.
"Pale was unfortunate to have a red card, there was certainly no malice involved in it, the referee identified that and so did Redingensians," said Rutter.
Alex Ducker continued his excellent form scoring two more tries, while Lewis Vinnicombe and Shaun Buzza also crossed to ensure the Reds got a bonus point.
"It was definitely a day for the senior players in the side to step up, lead by example and set the standard for the younger more inexperienced guys to follow," said Rutter.
"Kyle Marriott was captain on the day and he did exactly that. He really played the captain's game, led from the front and led by example.
"His work rate was fantastic, but having said that lots of other individuals played their part and that's what we're all about here at Redruth."