Mark McCall: High tackle guidelines will see more sent off for 'accidental' challenges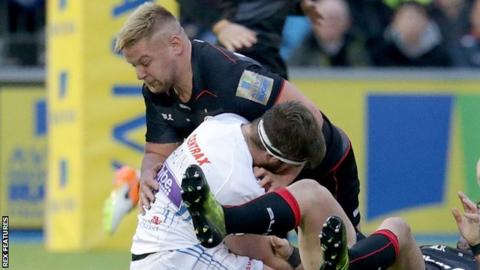 Saracens boss Mark McCall fears more Premiership matches will have players sent off as referees start to interpret new guidance on high tackles.
Sarries had Richard Barrington red-carded after 10 minutes in their draw with Exeter after hitting Geoff Parling with his shoulder in a collision.
"It wasn't a reckless challenge and it wasn't a dangerous challenge, it was just an accident," he said.
"It's luck of the draw and you're going to end up with a crazy situation."
Under new rule interpretations brought in at the start of 2017 any contact with the head in "reckless tackles" will be penalised by referees with at least a yellow card.
Barrington knocked former England lock Parling out as he supported what was a high tackle by skipper Brad Barritt - who went unpunished.
"That would have been accidental a while ago and now it's a problem, now it's red card in a match of big significance and it's 15 versus 14," McCall told BBC Radio 5 live.
"In the old days red cards were for reckless, dangerous challenges and we're going to end up with a lot of games 15 against 14 or 14 against 14 for challenges which aren't reckless or dangerous, but are accidental and just happen."