Tom Varndell: Bristol's first Premiership win of the season vital for survival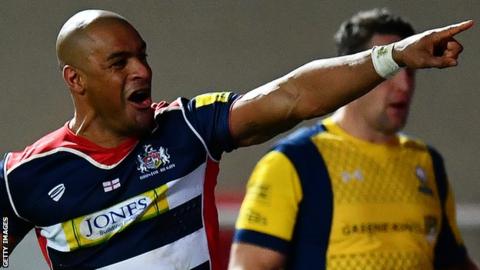 Bristol had to beat fellow strugglers Worcester to keep their hopes of staying in the Premiership, says winger Tom Varndell.
The 31-year-old scored a hat-trick as Bristol won their first league match this season since promotion and their first top-flight game since March 2009.
The 28-20 win came despite having centre Tusi Pisi sent off after 14 minutes for his challenge in the air.
"Today we knew it was all or nothing," Varndell told BBC Radio Bristol.
"We have had a good run in Europe the last couple of weeks, which has done wonders for our confidence. To win the way we did with 14 men is a massive credit to the whole team.
"We want to be in this league next year and you have got to make winning a habit. We know what it is going to take.
"It is a massive weight off our shoulders getting that first Premiership win. It has been long overdue and hopefully now we can kick on."