Johan Goosen: South Africa and Racing 92 back retires at 24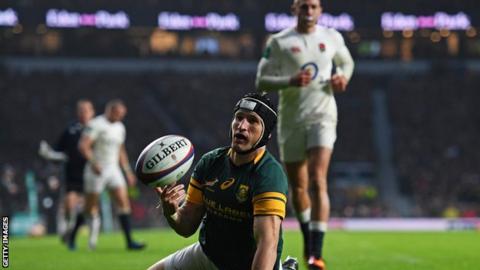 South Africa international Johan Goosen has angered his French club Racing 92 by announcing his retirement from the sport at the age of 24.
Goosen is reportedly returning to South Africa to become a commercial director.
"We regret that so obviously talented a young player has been misguided and abandoned professional rugby," said Racing president Jacky Lorenzetti.
"Racing 92 reserves the right for a judicial follow-up to both Johan Goosen and those who advise him."
Goosen has won 13 caps for South Africa, most recently starting at full-back in his team's 27-13 defeat by Wales last month.
He was voted the Top 14's player of the year last season after helping Racing to the French top-flight title.
Goosen has struggled with injury during his career but had been fully fit this year and returned to the South Africa side this summer, winning six more caps for the Springboks.