George North: Northampton Saints will be frustrated by decision wait - Lennie Newman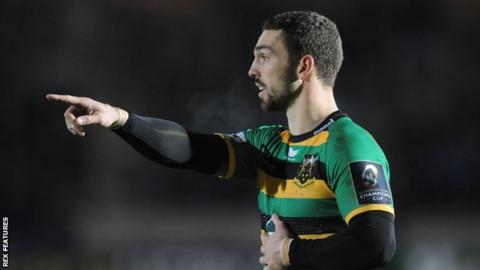 Northampton will be "frustrated" that an investigation into the management of wing George North's latest head injury has still to reach a conclusion, says ex-Saints team manager Lennie Newman.
A concussion panel was set up after North, 24, played on after landing on his head in the loss to Leicester.
The review, which is said to be "rigorous", will now go into next week.
"Northampton will just want it out of the way - it's not great PR for the club," Newman told BBC Sport.
"First and foremost they want a fit and well (George North) because player welfare is paramount, but they want to get one of their star signings on the pitch. They're struggling at the minute and want to be able to select him."
TV replays appeared to show North lying motionless after a high tackle from Leicester's Adam Thompstone in the game on 3 December, but he returned to play after passing a pitch-side assessment.
The Concussion Management Review Group comprises RFU's director of professional rugby, Nigel Melville; Phil Winstanley, Premiership Rugby's rugby director; and an independent chairman, Dr Julian Morris.
The wait for the decision is understood to be because the Premiership and RFU are working together, as well as the incident having no previous precedent.
"If there's one person that knows anything about head injuries that's George North, having suffered so many in his young career," continued Newman.
"I worked at Saints for many years and it is a superb medical team there who also knew George's medical history and would not have sent him out if they didn't feel he was right to do so. And the player has said he was not unconscious."