Guernsey Raiders have table-topping potential, says scrum-half Adam Nixon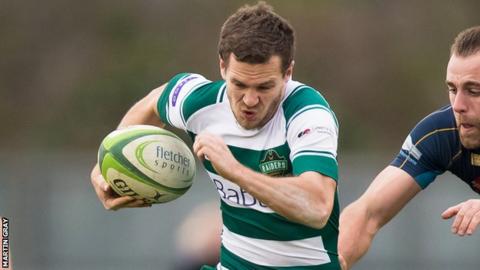 Guernsey Raiders should be nearer to the top of the table, according to scrum-half Adam Nixon, after their 69-5 win over Guildford.
Nixon scored a hat-trick and Cameron Craine scored twice, while Luke Jones, Owen Thomas, Dale Martin and Ned Brown all crossed the whitewash.
The nine-try win lifts Guernsey into fifth place in National Three London.
"I thought the boys were fantastic, it's definitely the best performance of the year," Nixon told BBC Guernsey.
"It shows that we should be up there towards the top of the table if we build wins like this."
After an impressive start to the season, Guernsey have won just two of their last seven games and travel to relegation-threatened Chichester in their final fixture of 2016.
"In the last few weeks we haven't done ourselves justice," Nixon added.
"We know we're there, we know we've got the team to put performances like this out. It's just having the attitude and the belief that we can do this."