Mark Morgan: Jersey Reds chief questions RFU after London Welsh liquidation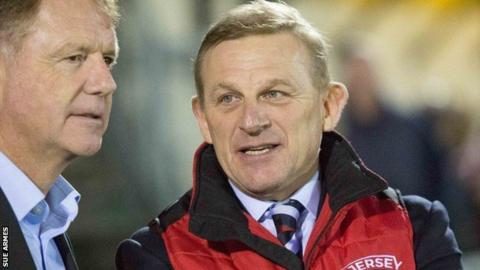 Jersey Reds chairman Mark Morgan says the Rugby Football Union must take "a good, hard look at itself" after London Welsh declared they will be liquidated.
The Channel Islanders themselves were forced to sell assets in November to ensure they can see the season through.
"We're not asking for full philanthropy," Morgan told BBC Jersey.
"But I think it's pretty clear that when 25% of your [Championship] teams are struggling financially, there's something wrong with your structure."
Of the 12 teams in English rugby's second tier, Cornish Pirates have also had to restructure financially this season in order to survive.
Speaking last month, RFU director of professional rugby Nigel Melville said Championship clubs must live within their means.
But Morgan added: "If you're an institution, like the RFU is, and you claim you want a professional second tier to provide a training ground for developing youngsters, you have a moral obligation to ensure that teams within that group thrive.
"We weren't far away [from liquidation] at all, but at the end of the day I think the RFU really has to take a good, hard look at itself.
"If the RFU allow another team to run semi-professionally, I don't think they can put their hands up and say any longer that they have a professional second tier of rugby, because they don't."