Glasgow Warriors 15-16 Munster: Townsend critical of poor start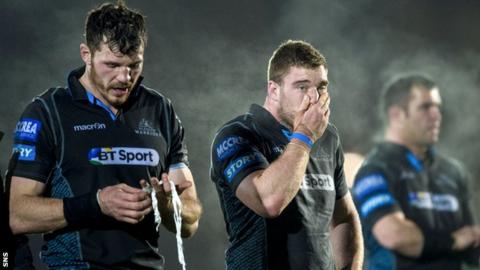 Glasgow Warriors head coach Gregor Townsend accused his players of lacking effort following the defeat by Munster.
Munster led 13-3 before Warriors got going; leading briefly before a late Ian Keatley drop-goal gave the visitors the 16-15 Pro12 win at Scotstoun.
"We pride ourselves on effort, on playing with ambition," Townsend told BBC Scotland.
"We were up against it after the way we played in the first half. We're disappointed by the first half."
Andrew Conway's early try put the visitors in control, but Ali Price then Mark Bennett scored tries to give Warriors a 15-13 lead.
A missed conversion proved crucial as Keatley put the ball through the posts in the final five minutes, leaving Warriors fifth in the league table before Saturday's matches.
"We're disappointed to be winning and then lose," added Townsend. "We're disappointed by the first half performance.
"Munster were the better team for a lot of the game but we did come back into it and played much better in the second half.
"They've got a very good defence and when you give a team a lead you're going to have to dig deep and create opportunities."
Warriors have now suffered three successive league defeats - the first time that has happened during Townsend's reign.
"You need outstanding defence, you need continual effort, you need to make best use of the ball and that's what we've shown for a number of years," the head coach continued.
"For whatever reason that first 10-15 minutes we just weren't there, but we did turn it round so it shows the character of the team. You saw the effort in the second half, we got charge downs, we were putting bodies on the line, players like Ali Price worked their socks off."
Glasgow suffered further blows with Peter Horne and Rory Hughes both being carried off with injuries.
"They've both got knee injuries," explained Townsend. "Those are two of our hardest working players as well. Obviously we're hoping they aren't going to be out for too long."
Price made his international debut last week, and from a stolen line-out gave Warriors hope when he raced past a number of Munster players to score.
However, he admits the recent performances of his team have not been good enough.
"We're not a million miles away and we're going to click," said Price. "The last two performances haven't been us and we've addressed that in training.
"We want to put in a performance for the guys who watch us every week. It's been sold out nearly every week and we're letting the fans down."