Six Nations bonus point: Mike Ruddock says changes make tournament better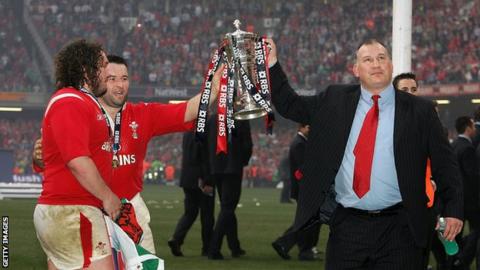 Former Wales coach Mike Ruddock believes changes to the Six Nations tournament will "enhance the quality" of the competition.
The Six Nations has announced an overhaul to the scoring system for the 2017 championship to "encourage and reward try-scoring and attacking play".
Nations will now earn four points for a win plus a bonus point for four or more tries.
"It makes a lot of sense," said Ruddock who led Wales to the 2005 Grand Slam.
The new scoring system - already used in the World Cup, English Premiership, Pro12 and the National Rugby Championship in Australia - will also be trialled in the Women's Six Nations and the Under-20 Six Nations.
Ruddock feels the move will present a good challenge for players and coaches alike.
"With all the other leagues involved in that way, it makes sense for the Six Nations to follow suit," he told BBC Radio Wales Sport.
"It has been a unique tournament and it had stood apart from the other formats.
"But these changes will only enhance the quality of it and the decision making, use of substitutions, it will make regimes keener to change players in the last 15 minutes who can bring that spark and get the extra try.
"But it really will be intriguing and I think will bring the best out of the coaches and the teams."
Ruddock feels the changes will discourage defensive tactics.
"These days coaches and players do such a lot of homework that the games are almost like a chess match," he said.
"It can be the easy option to just stay in the game and not make a mistake. It is harder to try and produce that extra play that can make a difference. Well now there is a reward for that, in that you will get the bonus point.
"It will be very difficult though, to score four tries against well-drilled international teams.
"It would be a mistake to focus solely on the attack. The defence coaches will try and prevent those tries going in."
Ruddock, who currently coaches Lansdowne RFC, was also quick to defend Wales coach Rob Howley following the autumn internationals.
Wales won three of their four contests, but their style of rugby and performance levels have been criticised.
"I have been interested to see the reports [from the series], I think Rob Howley has had a rough ride," Ruddock said.
"Beating South Africa is still a good scalp, Wales won three of the four in the autumn international series and he has delivered a Six Nations previously.
"In terms of the style, obviously everyone wants to see an open game.
"But it is a game of chess. You can't be one dimensional and you need more than one string to your bow."