Alex Cuthbert: Wales wing backed by Blues coach Danny Wilson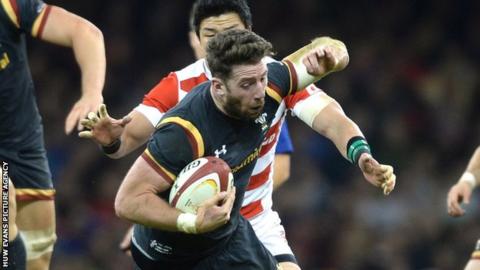 Cardiff Blues coach Danny Wilson has defended Alex Cuthbert against criticism following Wales' narrow win over Japan.
The Blues wing was singled-out by pundits and on social media after Wales' stuttering performance.
"Alex is still a good player with a lot to offer who's had some really good games for us," said Wilson.
Cuthbert has scored 15 tries in 44 Tests, but has not crossed over for Wales since August 2015.
Wilson believes dealing with social media criticism has become part of a player's role.
"It's not the first time, it's a tough side of the game social media, with some pretty blunt opinions," he said.
"Alex works extremely hard and it will never be through [lack of] effort if a couple of things don't go his way.
"He's one of the hardest-working pros I've come across."
New prop provoked
Blues prop Anton Peikrishvili is facing a disciplinary hearing on Wednesday for allegedly biting an opponent in the Anglo-Welsh Cup defeat against the Ospreys.
The 28-year-old Georgia international was sent-off following the incident on his debut for the region but Wilson said the player was provoked.
"I think he was hit in the back off the ball," said Wilson.
"That ended up with a scuffle on the floor with him on the bottom and that's led to the accusation."
"We signed Anton with a very clean disciplinary record and he hasn't had a red card in his career for ten years of rugby.
"It's very out of character, and it's an unfortunate incident that has provocation involved, though if that's where it goes in terms of the accusation, it [biting] is not something we condone."
Evans injury blow
Blues are to be without Wales under-20 fly-half Jarrod Evans for "a couple of months at least" after a facial injury in the Anglo-Welsh Cup defeat at Exeter.
Evans, 20, needed surgery after the injury, with the Blues pressing 17-year-old Ben Jones into service.
"He had a nasty facial injury, he's had the operation and he's on the mend.
"But it was unfortunate for him that 10 minutes into his first start of the season for the senior group, he got that nasty injury."