Rob Baxter: Exeter Chiefs are only now 'mentally fit for the season'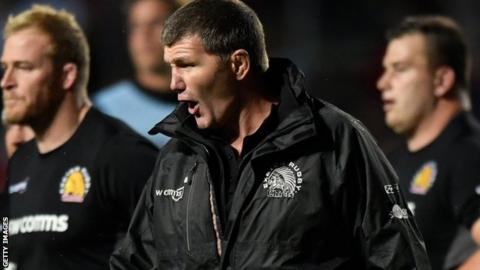 Exeter are only now 'getting mentally fit for the season', according to head coach Rob Baxter.
The Chiefs, who were beaten Premiership finalists in May, have made a stuttering start to this campaign, winning just twice in the league.
Sunday's win over Cardiff Blues in the Anglo-Welsh Cup was Exeter's first in seven matches in all competitions.
"Mentally we look fresher now than we did at the start of the season in a lot of ways," Baxter told BBC Radio Devon.
"I think that we're only just starting to get mentally fit for the season.
"I know that sounds a bit strange, but we've addressed a few little things over the last few weeks, where we were probably just off enough in a couple of areas where those tight losses have happened."
Four of Exeter's seven losses have been by six points or less, with late scores costing them the chance of victories against Bath and Northampton in the league and Ulster in the Champions Cup.
"We have to take responsibility for them, and in all of them you can say one decision here or one kick or one error by somebody, but most of the time you can take hold of those circumstances yourself," added Baxter.
"At the moment, we feel that some of the tight losses have been partly down to us and we've worked hard at addressing some of those issues and we're getting there."
The Chiefs return to action on Friday evening with an away game at Newcastle Falcons in the Premiership.