BBC Sport - Daisy and Sam Coleman aim to retain P1 SuperStock powerboat title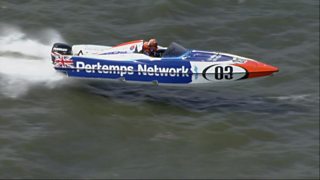 Coleman siblings powering to success
Army veteran Daisy Coleman is one of the most experienced powerboat co-pilots in the P1 division.
In 2016, brother Sam joined her in the boat and together they forged a winning partnership to clinch the P1 SuperStock Championship.
Based in Milford Haven in Pembrokeshire, they now have their sights set on both retaining their title and taking on the best America has to offer.