Scott Hansen: Jono Kitto says it has been tough since defence coach left Leicester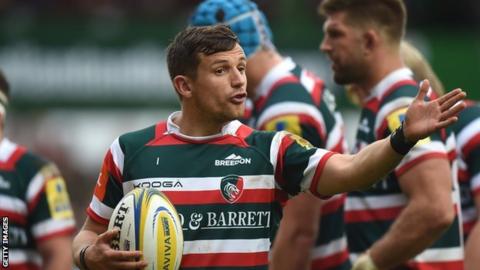 Leicester Tigers scrum-half Jono Kitto says it has been tough without defence coach Scott Hansen, who departed the Premiership club last month.
As a youngster, New Zealander Kitto was coached by Hansen in their homeland.
"He has played a huge part in my life as a person and as a player," Kitto, 24, told BBC Radio Leicester.
"He is a good friend of mine. On a personal level, regardless of what happened with his departure as a coach, he's my friend."
Hansen joined Tigers in 2015, but left early in the current campaign as Tigers conceded 126 points in their first five matches.
But Kitto is convinced that his mentor will be back in the game soon.
"He is a world-class coach and he has done a lot of good for a lot of players," continued Kitto. "He is one of the hardest working and most committed blokes I know.
"He doesn't miss a beat when it comes to doing his homework and prep. It's sad that I don't see him every day.
"It was really tough initially to not have him around and to bounce ideas off him and talk about how things are going.
"When he took me on as a young kid he changed my game completely and I would not be doing this interview if it was not for his direction and guidance.
"There are a few other players with really big profiles who would say the same thing."