Wales should 'hold up their hands and apologise' for Australia defeat - Gareth Thomas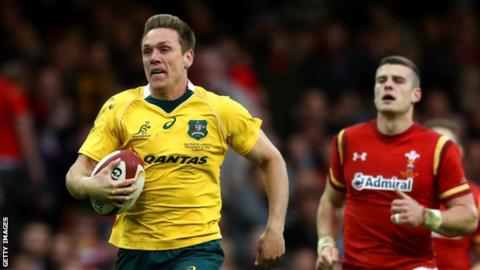 Wales should "hold their hands up and apologise" for their performance in the 32-8 defeat by Australia, according to former captain Gareth Thomas.
The Wallabies comprehensively beat a poor Wales side to seal a 12th straight victory over them.
Australia had come into the game off the back of a poor summer international period during which they had suffered a series whitewash by England at home.
"You look at the Welsh team and they underperformed," Thomas told Scrum V.
"Sometimes rather than trying to find an excuse you just say, 'you know what, this was massively unacceptable, we apologise to everybody and we'll make sure next week [against Argentina] that this is not repeated.'
"Whether we like it or not, it's a national game and it's owned by the people of Wales. Everybody is entitled to their say."
In addition to the summer series whitewash by England, Australia also lost all three games of the Bledisloe Cup against New Zealand prior to their victory in Cardiff.
"There's a lot of factors to take into consideration. Everyone is forgetting the results the Australian team came in on," Thomas continued.
"They were under pressure and teams perform well under pressure, especially when there's an expectation."
Thomas says the whole team has to accept responsibility for the performance and not just individuals.
"Sometimes when you collectively attack in a defensive structure and it all falls apart, it's easy to point blame and fingers at people, but collectively the whole team yesterday had a poor game," he said.
Scrum-half Rhys Webb may have ankle ligament damage after turning on his right foot in the second half of the defeat as a bad afternoon turned worse for the hosts.