Guernsey Raiders 'below standard' in defeat by Tonbridge Juddian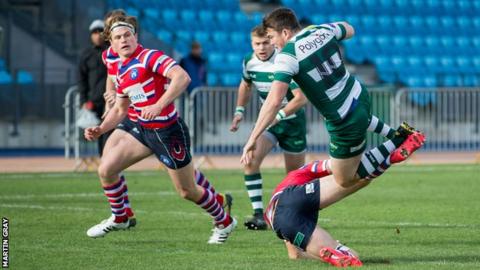 Guernsey Raiders boss Jordan Reynolds says his side are not playing to the levels of which they are capable.
The Green and Whites were crushed 47-14 at home to National Three London leaders Tonbridge Juddian, their third successive defeat.
"Once again it was just below what our standard of rugby should be at," Reynolds told BBC Radio Guernsey.
"At the moment we're in a bit of a low patch, we're trying to regroup and hoping to turn things around."
Guernsey conceded two tries in the opening 10 minutes, and despite a penalty try and score from Dan Hill, they were overwhelmed by Tonbridge, who have won eight of their nine games and are two points clear at the top.
"I still feel there are certain areas within our game that we are doing well at," added Reynolds.
"At the weekend it was pretty clear from the guys that they put in a hell of a lot of effort, but the problem that we're facing at the moment is we're putting in a huge amount of effort, but not getting any rewards from that."