Richard Thorpe: Ex-Canada and London Welsh flanker helping Chinnor resurgence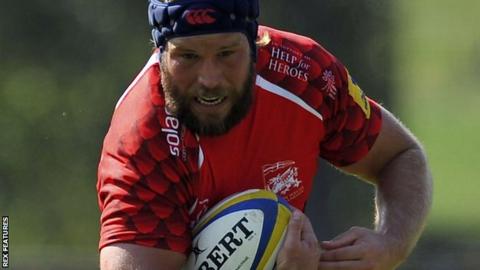 Deep in the Oxfordshire countryside and on the pitches of English rugby union's National League Two South, a quiet revolution is happening at Chinnor RFC.
A year after languishing at the bottom of the fourth tier, the Villagers' fortunes on the field have transformed with a perfect start to the season.
Nine wins from nine games will be put to the test against fellow high-fliers Old Elthamians on Saturday, who are also defending a 100% start to the campaign.
Masterminding the turnaround from seven defeats out of eight at this stage of the 2015-16 season are director of rugby Matt Williams - previously a hooker with Harlequins - and former London Irish, Leicester, London Welsh and Canada flanker Richard Thorpe as head coach.
Stepping away from 'high-pressure'
Thorpe, 32, called time on his playing career last season.
"Matt (Williams) called me up last Christmas and asked me if I'd come and run some defensive sessions," he told BBC Radio Oxford.
"I really enjoyed spending time at the club. I liked the ambition and I wanted to be part of it."
A career which included 10 Test caps for Canada and appearances at the 2015 Rugby World Cup may have ended somewhat prematurely, but Thorpe is revelling in his new capacity on the sidelines.
"Playing World Cup matches in front of a capacity crowd in Cardiff, it doesn't get better than that," he added.
"But professional rugby is a very high-pressure environment and nobody really realises that when they're looking from the outside.
"To be able to step down a couple of leagues, I've found the pressure is a little less and I'm actually able to enjoy rugby again."
'Dreaming big' near the Dreaming Spires
Despite a perfect start to his first coaching foray, Thorpe is hesitant to build Chinnor's promotion prospects only a third of the way through the season.
"It's all about focusing on the next game," he said. "I don't think it's a good idea to be looking at the back-end of the season when we've got a game to win at the weekend.
"Dreaming big and having big dreams, that's for our board, owners and our supporters to concern themselves with and I hope they have fun doing that."
In terms of dreaming big and how far Chinnor could climb, Thorpe knows a thing or two about Oxfordshire's appetite for a thriving side having played at Oxford's Kassam Stadium for London Welsh.
"Oxford to me seems like a rugby city, but without a first-class team," he told BBC Sport.
"We didn't gather the support we thought we would in Oxford when Welsh moved there. Perhaps people might think Chinnor could be the team to do so down the line.
"I definitely think there's an opening for a side to come along and take hold of Oxford."
Richard Thorpe was talking to BBC Radio Oxford's Jerome Sale.