Rob Harley highlights Scotland's strength in depth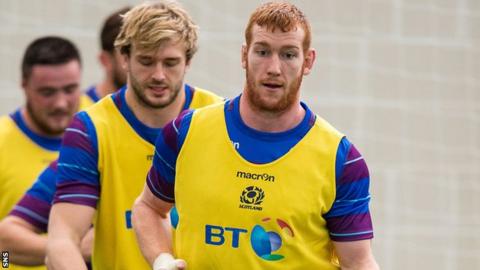 Glasgow Warriors forward Rob Harley says being unable to pin down a regular place in the Scotland side is proof of the squad's strength in depth.
The 26-year-old, who has 18 caps, was not selected for last year's World Cup but is back in the party for this season's autumn Tests.
"It is just testament to the competition we have," said Harley.
"And it shows that, when you are playing, you have to be constantly driving your game forward."
Harley believes that, while "it has probably not been ideal" for his cap collection, it has helped improve his game.
"I think it benefits me as a player to have that pushing my standards," said the second-row.
"We get good feedback on what the coaches want to see from us and where we can improve our games."
Vern Cotter, who took over as Scotland coach in 2014, is joining Montpellier at the end of the season and Harley thinks the New Zealander has had a two-fold impact on his game.
"He came in with a very open mindset about what forwards should do," he said.
"It wasn't limiting us to 'you are only ball carriers'. You can tip the ball on, you can be ball players.
"Making sure you are complete rugby players but also having that core emphasis on physicality because it is a physical game."
Cotter will be succeeded by Harley's current coach at Glasgow, Gregor Townsend.
Harley could not say what changes that would bring to the Scotland squad but said: "I think both coaches are innovators.
"They take a lot of ideas and try a lot of things out in training.
"We try different shapes and different tactics. Anything to get small edges. That is the main theme of both those guys."
However, Harley does think that being part of Townsend's club set-up has helped him win his place back in the current squad.
"I think it benefits you to be part of a side playing good rugby and I know all the guys from Glasgow are enjoying the rugby we are playing," he added.