Gavin Cattle: Cornish Pirates have themselves to blame after Rotherham loss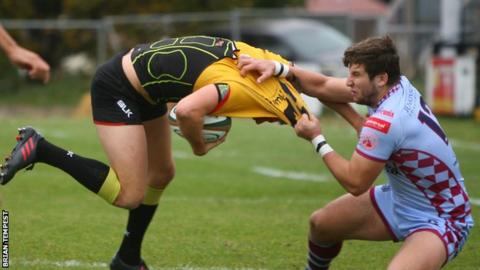 Cornish Pirates joint-head coach Gavin Cattle said they only had themselves to blame for the 26-24 loss at Rotherham.
Rotherham kicked a last-minute penalty to seal the win after the Pirates had been reduced to 12 men following yellow cards for Matt Evans, Tom Channon, and Brett Beukeboom late on.
Pirates had led 17-3 inside the first 15 minutes after touchdowns from Sam Simmonds and Alex Day.
Jack Innard's second-half try put them 24-13 up before Rotherham's fightback.
"We got what we deserved, we can't hide away from the fact that we left three or four tries out there," Cattle told BBC Radio Cornwall.
"There'll be a lot of talk about the yellow cards at the end of the game where we were fighting for our lives.
"But the disappointing thing when we review this game will be our accuracy in their 22, if we're going be that inaccurate in there then you're going to fall foul at some point.
"Some people will say there were some dubious calls, but we had a lot of opportunities to put that game to bed and it just didn't go our way."
The loss saw the Pirates Pirates drop to fifth in the Championship table.