Disability Sport: Shain Lewis defends tennis title in Wrexham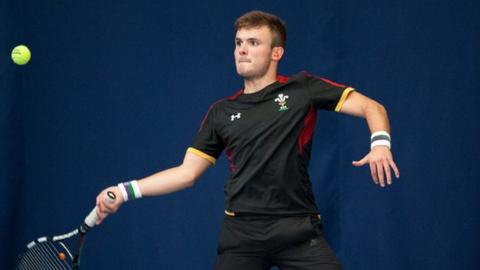 Welsh tennis player Shain Lewis will be defend his title in the National Learning Disability Tennis Championships in Wrexham.
The 24-year-old won Division One of the Championships in 2015 and is one of nine Welsh players in the tournament on Saturday and Sunday.
It is the first time the National Championships have been held in Wales.
"I'm going to give it my best shot. I think I'll pull through it so long as I'm on form," said Lewis.
Lewis competed for GB in the INAS World Championships in Ecuador last year, but was unable to compete at the Paralympics this summer as tennis did not have a learning disability category.
"I always want to let people know a learning disability is there and it's something I've learnt to cope with but it's never changed me," he said.
"It's good that the sport is getting a bit more notice and encouraging more players to play who have a learning disability is the biggest reward you can have. When I have my success it's hopefully inspiring others."