Alex Ducker: Redruth winger 'a revelation', says boss Marek Churcher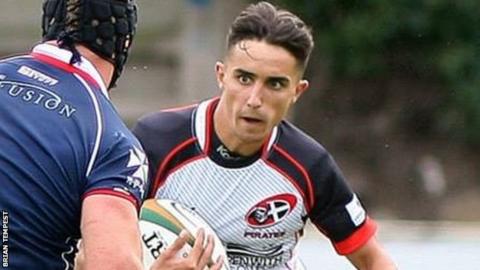 Redruth winger Alex Ducker has been 'a revelation' this season, according to head coach Marek Churcher.
The 23-year-old but has scored nine tries for the Reds since joining from Camborne at the start of this season.
"There aren't many people like him," Churcher told BBC Radio Cornwall.
"He's such a balanced runner and when he (side) steps he doesn't lose pace, so it's a real good thing to have."
Ducker's tries have been key as the Reds have had one of their best-ever starts in National Two South, winning seven of their opening eight matches to reach third place in the table.
"He's just grown in confidence," added Churcher.
"When I spoke to him at the beginning of the season, one of his work-ons was to just become a bit more physical and he's done that.
"It's exciting to watch him and the reports you get from the crowd every time he gets the ball they're stood up and cheering because he's always going to create something.
"He's been a revelation for us, but we've got to remember that the guys that are inside him are doing the hard work for him to get into that space."