Ireland women's rugby team: Caughey and McLaughlin named for training camp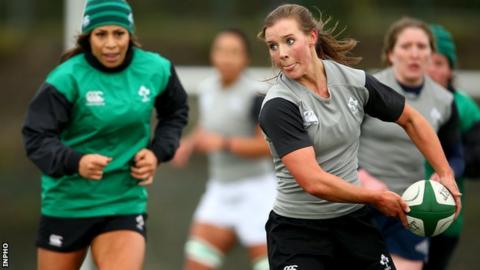 Ulster duo Nikki Caughey and Claire McLaughlin have been named in a 31-woman Ireland squad for a training camp in Dublin this weekend.
The camp will see Tom Tierney's squad continuing their preparations for the November Series games against England, Canada and New Zealand.
Uncapped Leah Lyons, Nichola Fryday, Anna Caplice, Chloe Pearse and Nicole Fowley are all included.
"The squad contains a nice blend of youth and experience," said Tierney.
"A number of the players selected made their debuts against England last November and since then have continued to develop as players with their clubs, provinces and with Ireland during last season's Six Nations.
"With the Women's Rugby World Cup now less than a year away, we have three very big tests coming up in UCD.
"Kicking off against World Cup holders England, followed by World Cup runners up Canada and then finally New Zealand, who are coming to Europe off the back of two strong wins against Australia, it's going to be a very demanding series of games."
Ireland Women's Squad for training camp
Forwards: Anna Caplice (Munster), Ciara Cooney (Leinster), Ailis Egan (Leinster), Paula Fitzpatrick (Leinster), Orla Fitzsimons (Leinster), Nichola Fryday (Connacht), Zoe Grattage (Munster), Ciara Griffin (Munster), Fiona Hayes (Munster), Leah Lyons (Munster), Claire Molly (Bristol Ladies), Cliodhna Moloney (Leinster), Kate Norris (Leinster), Chloe Pearse (Munster), Lindsay Peat (Leinster), Fiona Reidy (Munster), Marie-Louise Reilly (Leinster), Sophie Spence (Leinster).
Backs: Niamh Briggs (Munster) capt, Liz Burke (Munster), Nikki Caughey (Ulster), Mairead Coyne (Connacht), Nicole Fowley (Connacht), Mary Healy (Connacht), Niamh Kavanagh (Munster), Claire McLaughlin (Ulster), Alison Miller (Connacht), Larissa Muldoon (Leinster), Sene Naoupu (Aylesbury Bulls), Jackie Shiels (Leinster), Nora Stapleton (Leinster)