Young Sale Sharks fan gets VIP invite to Toulon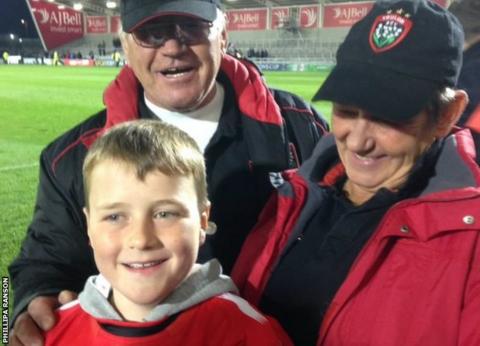 When young rugby fan Jacob Ranson searched out his seat at the AJ Bell Stadium on Friday, he found himself among the visiting Toulon fans rather than the Sale supporters.
It was not a problem as Ranson, who got his ticket to the Champions Cup game for his 10th birthday celebrations, had come to the match as a fan of both his local Premiership team and the French giants.
He left an even greater fan of Toulon's travelling support and them of him.
Less than a week later, he had an official club invitation to come to the Stade Mayol and spend the day "as close as possible to the players and the staff".
Phillipa Ranson, Jacob's mum, told BBC Radio Manchester's Rugby Union Extra programme: "Jacob was wearing his own Toulon shirt that night. When we got to the stadium, we just happened to be by this pretty amazing, very passionate group of Toulon supporters.
"They took him under their wing, and it went from there."
As they travelled back to France from their side's 15-5 victory, Toulon's fans searched out Jacob on social media, invited him to January's return match on the Cote d'Azur and even started a crowd-funding campaign to pay for his travel and accommodation.
After Toulon, owned by comic book magnate Mourad Boudjellal, got wind of their own fans trying to support a trip for Jacob, they stepped in with their special invite.
"It's been a bit of a whirlwind really, quite a shock," Phillipa added. "It came out of the blue.
"From a school point of view, we are waiting for the fixture date to be confirmed, whether it is a Friday, Saturday or Sunday, so we need to look at that, in terms of travel.
"But we're very excited about the prospect of it. We just want to say a massive thank you to everyone that has done this."