England Women welcome back Rio Sevens stars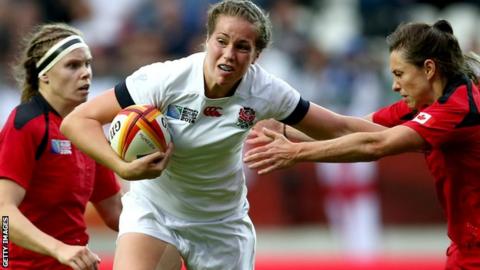 Former captains Emily Scarratt and Katy Mclean are among those to return to the England women's fold for the autumn internationals after representing Great Britain at sevens at the Rio Olympics.
Full-back Danielle Waterman and scrum-half Natasha Hunt are also back in the squad to face France, Ireland, New Zealand and Canada in November.
Rochelle Clark could become England's most-capped player of either gender.
The prop needs two more appearances to surpass the 114 caps of Jason Leonard.
England Women's autumn internationals
9 November
England v France
Twickenham Stoop
13 November
Ireland v England
University College Dublin
19 November
England v New Zealand
Twickenham Stoop
26 November
England v Canada
Twickenham Stoop
The Rugby Football Union introduced contracts for 15-a-side players in October to improve the team's chances ahead of their World Cup defence in 2017.
England's 15-a-side team were depleted in the run-up to Rio 2016 with several of their key players recruited to the seven-a-side format on paid deals.
And, having won seven straight Six Nations titles up to 2012, they have not won it for the past four years.
"The arrival of professional contracts for 15-a-side players means that when the players come into camp next week, we will remain together as a squad for the duration of the Old Mutual Wealth Series," said coach Simon Middleton.
"While we are under no illusion as to the challenge we face, these four Tests will provide an integral part of our World Cup preparation ahead of next year."
England women's squad:
Forwards: Zoe Aldcroft (Darlington Mowden Park Sharks), Sarah Bern (Bristol), Emily Braund (Lichfield), Rochelle Clark (Worcester Valkyries), Poppy Cleall (Bristol), Amy Cokayne (Lichfield), Vickii Cornborough (Aylesford Bulls), Emma Croker (Richmond), Vicky Fleetwood (Saracens), Sarah Hunter (Bristol), Justine Lucas (Lichfield), Alex Matthews (Richmond), Harriet Millar-Mills (Lichfield), Izzy Noel-Smith (Bristol), Marlie Packer (Bristol), Laura Keates (Worcester Valkyries), Tamara Taylor (Darlington Mowden Park Sharks)
Backs: Claire Allan (Saracens), Rachael Burford (n/a), Natasha Hunt (Lichfield), Megan Jones (Bristol), La Toya Mason (Darlington Mowden Park Sharks), Katy Mclean (Darlington Mowden Park Sharks), Sarah McKenna (Saracens), Fiona Pocock (Aylesford Bulls), Amber Reed (Bristol), Emily Scarratt (Lichfield), Emily Scott (Saracens), Lydia Thompson (Worcester Valkyries), Danielle Waterman (Bristol), Kay Wilson (Richmond), Amy Wilson Hardy (Bristol)