Guernsey Raiders lose to Hertford in top-of-table game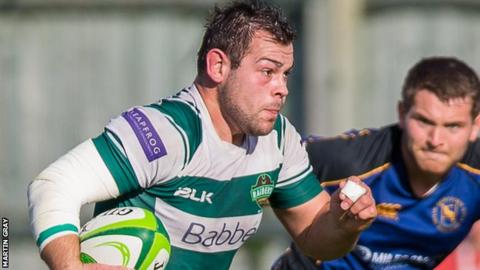 Guernsey Raiders lost 31-17 in their top-of-the-table match with Hertford in National Three London.
The visitors ran into a 17-0 lead inside the first 15 minutes before tries from Tom Ceilam and Jason Batiste reduced the arrears to 17-12.
But Hertford winger Ben Creasey got his second try in first-half stoppage time before completing his hat-trick after the break to make it 31-12.
Adam Nixon's late try for Guernsey was not enough for a bonus point.
"It was a bit of a wake-up call for us," director of rugby Jordan Reynolds told BBC Radio Guernsey.
"We can do a lot better. It was just silly defensive lapses that we have to fix and we can do that."
Reynolds was unhappy with the way the referee officiated at the maul, which saw Guernsey almost go over for a fourth try.
"If the referee was policing the drive area properly, because you can't pull down a maul, we would have been dominating the game," he said.
"But Hertford knew that our drive was our key and the referee didn't police it well enough, so they got away with it so fair play to them."