English game will avoid club-versus-country row, says Dai Young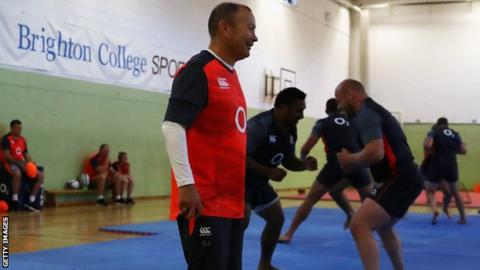 English rugby will avoid a club-versus-country row despite recent tensions, says Wasps director of rugby Dai Young.
The relationship between Premiership clubs and the Rugby Football Union (RFU) has been strained by injuries to three players at an England training camp.
Sam Jones broke his leg, Anthony Watson fractured his jaw and Jack Nowell injured his thigh at the camp in Brighton earlier this month.
"We've got to be equals," Young said.
Wasps flanker Jones fractured a fibula while grappling with lock Maro Itoje during a judo session at the camp.
Bath's Watson and Exeter's Nowell were both injured during rugby training.
Saracens boss Mark McCall questioned the timing of the Brighton get-together.
England's training camp questioned
"My point was people who make these decisions really don't understand performance needs. They could have asked a few directors of rugby whether they thought it was OK to have the camp 10 days before [European fixtures]."
Saracens director of rugby Mark McCall on 12 October
England head coach Eddie Jones and Premiership Rugby director Phil Winstanley met with club representatives last week, but five teams - Leicester, Exeter, Gloucester, Northampton and Sale - did not send anyone.
Young, though, does not believe there has been any lasting damage to the relationship.
"Obviously Eddie's always going to back his corner and we're always going to back ours; we have slightly different agendas," said Young.
"But when it comes to player welfare and looking after players, we've got the same agenda.
"From our point of view, it will be doing nobody any good for us to be falling out with the national set-up. And to be honest, I don't ever really see that happening, not in this day and age.
"We all realise that. You can't have a bigger brother in this situation."
Jones had long been scheduled to meet Premiership coaches in London last week, but Young said the recent injuries changed the complexion of discussions.
Exeter boss Rob Baxter had expressed frustrations at the workload of winger Nowell's training during the Brighton camp, given the 23-year-old had only just recovered from thumb surgery.
Premiership concerns
"I don't really care if England think they have an unlimited supply of players. That's fine, but there isn't an unlimited supply of players."
Exeter coach Rob Baxter on 10 October, after learning of the severity of Jack Nowell's thigh injury
Premiership Rugby and the RFU both issued statements after last Thursday's meeting to indicate talks had progressed positively.
"The meeting was hijacked a little bit by a lot of things that went on in the camp, because that meeting was pencilled in for a long time," said Young.
"It wasn't a showdown meeting, that was never the case, it was always arranged for Eddie to come along and discuss what his plans were."