Rob Baxter: Exeter still 'dealing' with last season after heavy Clermont loss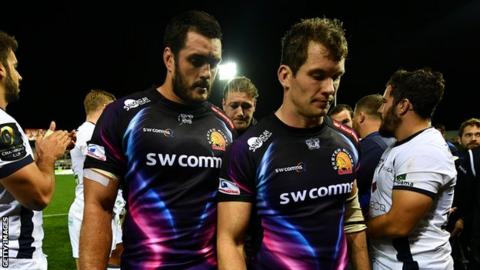 Exeter head coach Rob Baxter has indicated his side are suffering a hangover from last season's success.
The Chiefs were crushed 35-8 by Clermont at Sandy Park in the European Champions Cup on Sunday and have just two Premiership wins from six matches.
"I think we're still an immature enough Premiership side to not have had to have dealt with a really good season.
"I'm glad we're having to deal with having a good season last year, but I do think we're still dealing with it."
Exeter reached last season's Premiership final and were moments away from earning a place in the semi-final of last season's Champions Cup, before a last-minute try sent Wasps through.
Chiefs also eliminated Clermont in the group stages last year partly thanks to a win over the 2015 runners-up at Sandy Park.
"We've taken a collective breath and as a club we've taken a breath as well," Baxter added to BBC Radio Devon.
"We fought our way through some important games, we achieved a lot of notable things and I'm not sure we still remember what it was that made that happen, and it was getting out there week by week and rolling our sleeves up and fighting and training hard.
"There's no huge drama, but when you lose a bit of an edge you've got to work hard to get it back and that's what we're going to have to do."