Champions Cup like Test rugby, says Jake White
By Chris Jones
BBC Radio 5 live rugby reporter
Last updated on .From the section Rugby Union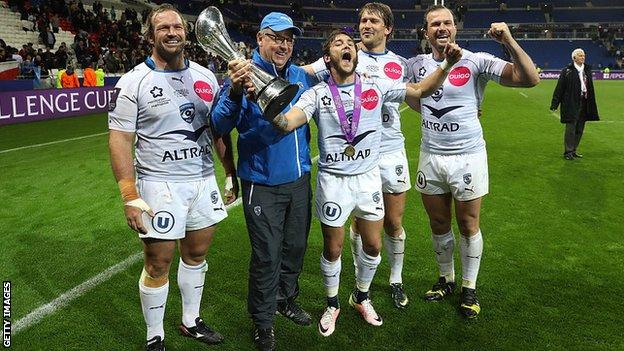 Montpellier's World Cup-winning coach Jake White believes the standard of the European Champions Cup rivals that of the international game.
The 2016-17 Champions Cup starts this weekend, with Montpellier one of the contenders for the title after winning the Challenge Cup last season.
White, 52, whose side face Northampton on Saturday, says the competition is "a great learning curve" for coaches.
"This competition is like Test rugby every Saturday," he told the BBC.
White won the 2007 World Cup when in charge of his native South Africa and has since had successful spells with the Brumbies in Australia and the Sharks in Durban.
He took charge of Montpellier at the end of 2014.
"I've realised how strong rugby is in Europe," he added.
"You look at the squads, and the teams playing every Saturday - you can't hide here."
Last chance at Montpellier
White saved Montpellier from relegation when he arrived, then won the Challenge Cup and reached the Top 14 semi-finals last season, but will be replaced next summer by outgoing Scotland coach Vern Cotter.
He believes being linked with the vacant England job this time last year did not ingratiate him to Montpellier president Mohed Altrad.
"The owner was probably a little bit jittery about me being linked to the England job," White said.
"I was hoping to continue. But I understand professional rugby. Vern Cotter is available and he has a fantastic record in France."
White does not have any regrets about openly declaring his interest in the England post prior to Eddie Jones' appointment.
"I wouldn't change anything," White said. "I was just truthful that England is a very sought-after job in world rugby.
"I thought it was a sleeping giant at the time, and Eddie has proved that right."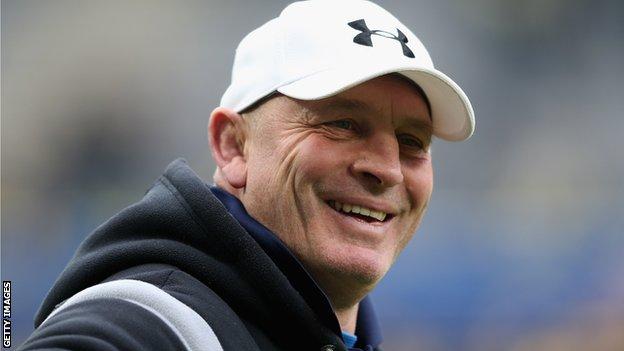 'We wanted more French players'
Despite bringing success to the Top 14 club, White has been criticised for the number of fellow South Africans at Montpellier as well as the side's supposedly conservative style of play.
"I get ring-fenced into a style of play, but we had the top try-scorer in the Top 14 last season," White said.
"It's just a perception out there about the style of play; it's pragmatic, it's about winning, and playing to your strengths.
"If I look back at the last year and a half - saving relegation, winning a trophy, now being in the top four - it's a good base for the club to develop."
White rejects the notion he is harming French rugby by importing foreign players.
"That is more driven by the media. Every club would like a lot of French players but we didn't have a lot of French players coming through the ranks," he said.
"It wasn't through a lack of trying, and it wasn't because we purposefully tried to change the culture of the club," he added.
"Every French player I asked to come to Montpellier was very reluctant because the club was always fighting for survival.
"We want to get more French players - good French players - but also make sure we are competitive.
"I think it's a great time for the club to take the next step. I would like to be part of it, but if Vern Cotter is the guy the president feels can take them to the next level, then that is good for the club."
What's next for White?
White says he has learned from previous experiences so is reluctant to talk too much about his next step.
"I would like to finish this campaign properly. I think it's only fair to the players I've asked to stay on, only fair to my president, and only fair that I stay professional and positive," he added.
"I am still young enough to share my experiences, and if I think there is a gig that suits me and I suit the gig as well, then I will look at it.
"I've said it openly, I would like to be back involved in a national set-up. But the most important thing is to focus on this job. Then I will reflect and see what happens."