Duncan Hodge keen to be Edinburgh coach full-time
Last updated on .From the section Scottish Rugby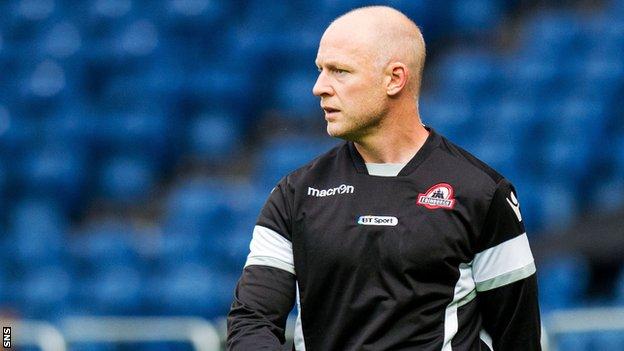 Duncan Hodge says it would be a dream come true if he was named Edinburgh coach full-time.
The former Scotland fly-half has been installed as caretaker following the departure of Alan Solomons last week.
The South African left after three years in charge, saying he had taken the team as far as he could.
"I would love to (do the job long term) - but I can't control that decision. We're making some changes and will see where we go from there," said Hodge.
"It's still all too early for that stuff and my focus has been nowhere else this week than on Friday night at home to Benetton Treviso. That's a very short-term view but for now that's the way it has to be."
Hodge's first task is to halt a run of just one win in their opening five Pro12 matches when they host the Italians at Murrayfield.
The 42-year-old took charge for the first time in the 28-15 loss to Connacht last week.
"The biggest thing I can do to help this team right now is to help it get results," he said.
"But becoming a head coach is part of the plan I have for myself. As soon as you get involved in this side of the game, you realise that's what you want to do.
"I've lived in Edinburgh for most of my life, played for the club and I'm hugely passionate about it. I'd like to think I could make a difference.
"Is it the dream job? Yeah. I'm hugely honoured to even have it on an interim basis. All I can do is the best I can to try and get some more out of these players. Hopefully that will see a change in fortunes."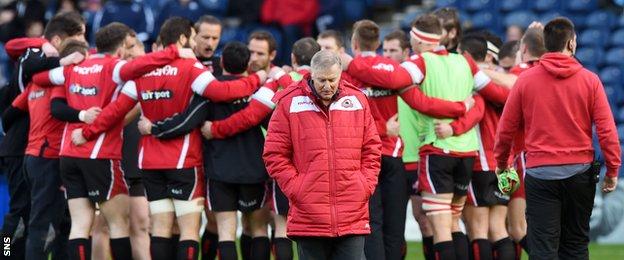 Hodge admits Edinburgh under-achieved during Solomons' spell in charge, with an eighth-place finish the best they managed.
"There's been bits of good and bits of bad," admitted Hodge. "In a number of different areas we are letting teams off the hook too easily.
"In terms of the league position, has the team been where the SRU and Edinburgh want it to be over the last three years? No, it hasn't.
"I'm now trying to identify the reasons why things (have not worked at Edinburgh) and potentially change them. But we can't do it overnight and I'll have to pick and choose my battles."
He added: "I haven't spoken to Alan since he left but I'd like to keep in touch with him because he's an incredible man.
"He's a very good coach. I've never met someone with more drive than him. He was so passionate about Edinburgh but had a tough job to do when he came in.
"I think we'd all agree he did a great job over his time here."