GJ Van Velze: Worcester skipper given extra recovery time after concussion injuries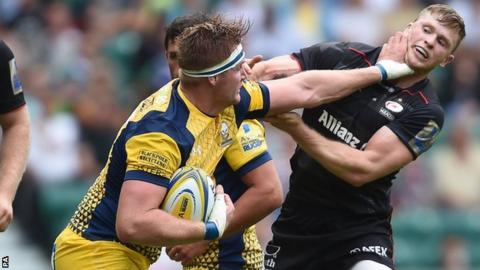 Worcester Warriors captain GJ van Velze has been given extra time to recover following a series of concussion injuries over the past year.
The 6ft 5in South African has not played since picking up his latest head injury in the opening-day defeat at Saracens and looks likely to be sidelined for a few more weeks yet.
Warriors are also taking their time with fellow concussion victim Ben Te'o.
He misses a third straight game this weekend with a similar injury.
Rugby league convert Te'o looks to be on the mend from the injury he suffered against Gloucester three weeks ago, having been named by Eddie Jones in England's 45-man squad for the autumn internationals.
But Warriors are taking even greater care with 28-year-old van Velze, who has been given "an extended break from normal player duties".
"The long-term welfare of the player is of utmost importance," said Warriors high performance director Nick Johnston. "Even though GJ is desperate to play, we have to manage him correctly by looking after him.
"If a player returns too early before they have fully recovered, this may result in prolonged concussion symptoms and possible long-term health consequences, so it's imperative that it is handled with due care and diligence.
"GJ has seen all the relevant specialists and having gone through the correct procedure. He is not yet ready to return to action. He still needs more time."