Ulster assistant coach Joe Barakat to leave post in December
Last updated on .From the section Irish Rugby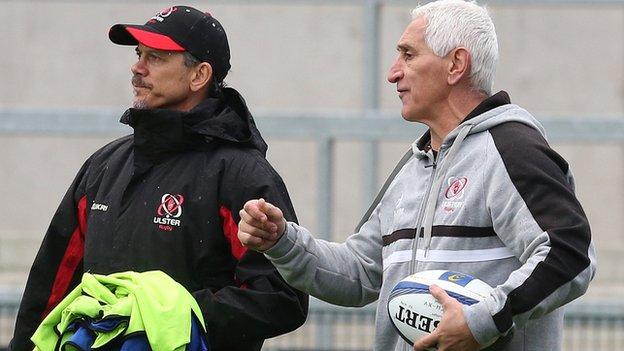 Ulster assistant coach Joe Barakat will leave the province in December to take up a position with Western Force in his native Australia.
Barakat, who joined Ulster in 2015 and is responsible for defensive strategy and the contact zone, will be senior assistant coach at Western Force.
"This opportunity is a chance for me to take on a senior position at a Super Rugby franchise," said Barakat.
"It also brings me back closer to my family, having spent a long time away."
Barakat previously coached at the Waratahs in Sydney and had a five-year spell in Japan, while he has also held roles with the Australia U21 side and Fijian Rugby Union.
"I can't speak highly enough of the coaching group and the players here at Ulster," he added.
"There is so much talent and ambition here and that will only lead to positive things in the future.
"Until I leave in December I will be fully committed to the Ulster cause and will do everything in my power to ensure that we are well-placed going into the business end of the season."
Farewell match
Bakarat's final game working with Ulster will be the European Champions Cup trip to ASM Clermont Auvergne on 18 December.
"As expected, Joe has done a tremendous job for Ulster Rugby since his arrival," said director rugby Less Kiss.
"He has provided coaches and players alike with a fresh insight and perspective into the game."