Cornish Pirates coach Gavin Cattle 'not surprised' by good form
Last updated on .From the section Rugby Union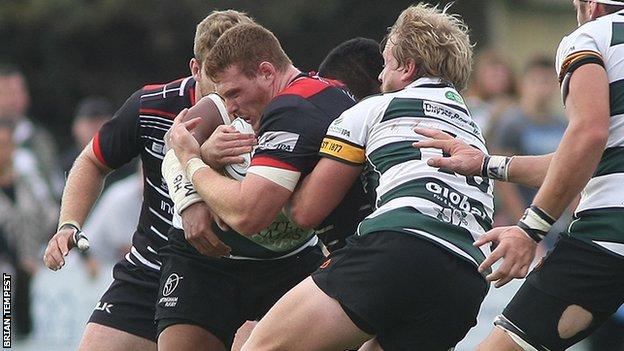 Cornish Pirates coach Gavin Cattle says he expected the good form his side have shown in the Championship.
The Penzance-based club are third in the division after wins at Bedford and Nottingham and a draw with Ealing.
"I'm not really that surprised if you look at the results," Cattle said.
"In terms of where we are with our performance, Bedford, the Nottingham game and the second half of Ealing is something that we've seen consistently on the training pitch."
The matches are the first three competitive games that Cattle and co-coach Alan Paver have been in charge of the side, having succeeded Ian Davies after he left his post as director of rugby last season.
"I've really enjoyed it," Cattle told BBC Radio Cornwall of his time in charge.
"As we're winning, people are all saying positive things and it's been a positive environment to work in.
"Myself and Paves have no airs or graces, we can tell each other exactly how it is and he's a good man to work with. He's one of my best friends as well, so we're on the same page there.
"But what we're really pleased with is the buy-in we've got from the players as well. They're on the same page as us and we talk about learning and progressing, they're taking ownership of their own learning, which is massive."